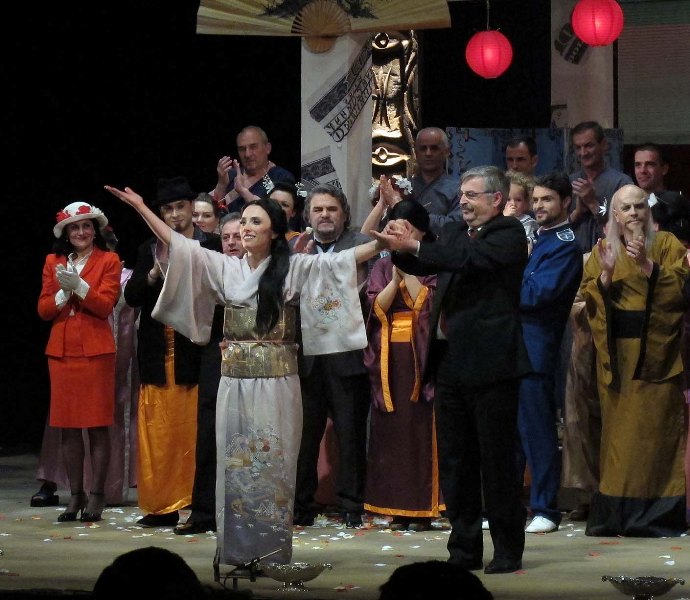 Tirana, April 7, 2014/Independent Balkan News Agency
The Albanian world famous soprano, Ermonela Jaho, has managed to fill the central hall of the National Theater of Opera and Ballet in Tirana with a brilliant interpretation of "Madame Butterfly".
The show has been going on for several days, but it's harder and harder to find a place in a hall which is not usually over populated, due to a serious and non commercial music.
Ermonela Jaho has interpreted the dramatic role of the main character Cio Cio San (photo) in the 7 most prestigious stages in the world. This is the 8th time that she's happy to interpret "Madame Butterfly" in Albania.
She says that singing is the catharsis of the spirit. She also says that she has found inspiration on the best of the Albanian art.
"There's no stronger emotion and a more extraordinary satisfaction than when you're surrounded by love and appreciation", says the known soprano.
Rama: Gratitude and veneration for the Albanian diva of the World Opera
After a period of 7 years that she had been missing in the Albanian stage, the soprano made a big comeback and received an institutional veneration.
Prime minister Edi Rama offered a medal to the Albanian soprano, by considering her opera voice as the voice that dominates today world stages.
"In an effort to do what we can do and what I can do to express my satisfaction, pride and respect, I could not find anything bigger than the exclusive medal that the prime minister only offers to heads of states and prime ministers of other countries", sayd Mr. Rama.
Prime minister Rama considered Ermonela Hajo as the artist of a superior category and as the best ambassador of the Albanian art in the world.
"We, Albanians, can do miracles when we join forces", was the message of Ermonela Jaho.
"We, Albanians, can do miracles, like it happened when we joined our hearts with the opera Madame Butterfly, because people not only wanted to see the singer, but also to feel something true, sincere, which came as a result of this unification of hearts that we, Albanian artists did", said Ermonela Jaho. She promised that in spite of the fact that she holds many concerts worldwide, she will come more often in the most beloved stage for her, the stage of her country. /ibna/