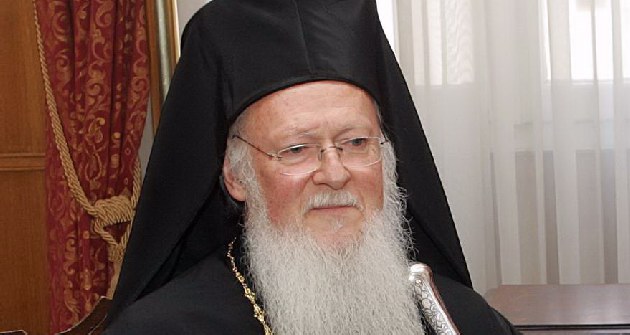 IBNA Interview/ His All Holiness Bartholomew I, Archbishop of Constantinople, New Rome and Ecumenical Patriarch
By Spiros Sideris – Istanbul
Your All Holiness,
The world community is going through an unprecedented layered crisis. Where does it owed, according to your opinion, and how could be overcome? How could the religion help us to come out of this crisis?
The world of faith can prove a powerful ally in efforts to address issues of social justice. It provides a unique perspective – beyond the merely social, political, or economic – on the need to eradicate poverty, to provide a balance in a world of globalization, to combat fundamentalism and racism, as well as to develop religious tolerance in a world of conflict. It is precisely the role of religion to respond to the needs of the world's poor as well as to vulnerable and marginalized people. In fact, it is a rare instance where a faith institution is not a defining marker of the space and character of a community. It is our conviction that religion is arguably the most pervasive and powerful force on earth.
This is why it comes as no surprise to us that religion and the faith communities are proving to be the subject of renewed interest and attention in international relations and global politics, directly affecting social values and indirectly impacting state policies. For, not only does religion play a pivotal role in people's personal lives throughout the world, but religions play a critical role as forces of social and institutional mobilization on a variety of levels. Whether we are dealing with environment or peace, poverty or hunger, education or healthcare, there is today a heightened sense of common concern and common responsibility, which is felt with particular acuteness by people of faith as well as by those whose outlook is expressly secular.
The Balkans, an eclectic area that has previously been the theatre of political and religious conflicts, could become the shining example of mitigation of disputes?
The function of the Ecumenical Patriarchate as center par excellence of the life of the entire Orthodox world emanates from its centuries-old ministry in the witness, protection and outreach of the Orthodox faith. This is precisely why the Ecumenical Patriarchate possesses a supra-national and supra-regional, indeed a truly ecumenical character. From this lofty consciousness and responsibility for the people of Christ, regardless of race and language, were born the new regional Churches of the East, from the Caspian to the Baltics, and from the Balkans to Central Europe. This breadth of jurisdiction today extends to the Far East, to America and Australia.
This is why we are deeply concerned about events that mark and scar people's lives throughout the world. We have always held a special place in our prayer for the people of the Balkans and reserved a special place in our heart for the innocent suffering of people and the unjustifiable death of children in recent wars of the Balkans.
The Ecumenical Patriarchate possesses a unique perspective on religious tolerance and inter-faith dialogue, working for reconciliation among Christian churches as well as for environment awareness and the protection of the earth's natural resources, which are directly impacted and destroyed by war. This is why we have worked to advance reconciliation among Catholic, Muslim and Orthodox communities in the Balkans, while also being personally supportive of peace building measures to diffuse global conflict in our neighboring lands as well as in the wider regions of traditionally Orthodox countries emerging from decades of wide scale religious persecution behind the Iron Curtain.
Two months ago the Orthodox Church celebrated the Resurrection of the Lord. What message would you like to send to the peoples of the Balkans?
During the Easter period, for forty days we sing the Resurrection hymn: "Christ is risen from the dead…giving life to those in the tombs". This phrase refers to a refreshing perspective on Easter: we see an open tomb, not an empty grave. The miracle of the Resurrection is an open invitation to a new way of living that prevails over the darkness within us and around us. The Orthodox icon of the Resurrection depicts Christ pulling Adam and Eve, our earliest prototypes of sinners, out of a tomb and into a new life. It is an image of liberation, often depicting broken chains and shattered padlocks. The Light of Christ enters and brightens the furthest depths of human experience. No longer  does the grip of hell, imprisonment, and defeat cause us to become rigid, numb, and indifferent. Resurrection is all about a new reality, a fresh perspective, a renewed life, where resentment, hardness, and hostility are overcome.
Thus, the Resurrection is a call to action and compassion. It challenges us to reflect on where we most deeply experience hostility and disunity. And images of this reality abound around us and very close to us. Nonetheless, the Gospel message of the Resurrection is as simple as it is radical: We are called to stand for love where hatred persists, to preach companion where in justice abounds, and to insist on dialogue where division prevails. Although it is easier to proclaim a Gospel of power and might, we must persist in encouraging conversation among unlikely partners from radically different backgrounds (whether Christians, Muslims, Jews or other faith communities), conservation of natural resources (whether for purposes of consumption, development, or mere survival), and conversion of our habits (despite our reluctance and resistance).
So when all light fails and life itself seems to fade, faith in the Resurrection ultimately entails love for one another, care for one another, dialogue with one another, reconciliation with one another. The Resurrection is not merely the manifestation of the power of God; it is primarily the revelation of the nobility of each of us. If we ever wonder where the victory over death might be visible today, we should remember that it lies in each of us, within our own communities. This is the message we would like to proclaim to your readers.