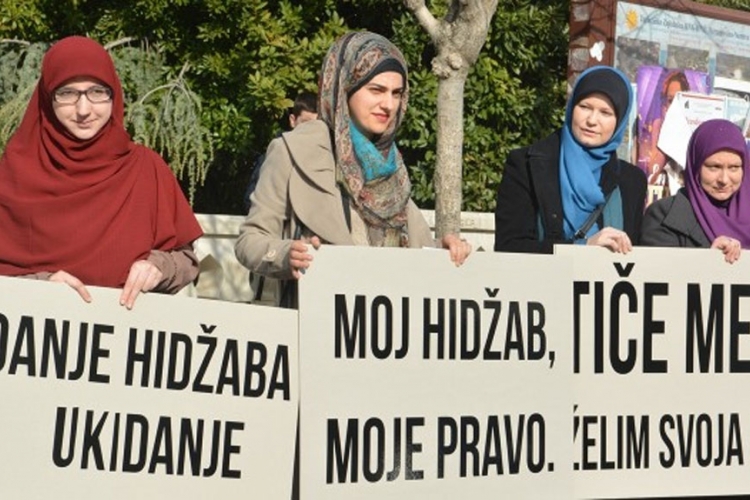 Sarajevo, February 1, 2016/Independent Balkan News Agency
By Mladen Dragojlovic
Three years ago, the World Day of hijab was established and many countries are taking part in its marking. This year, BiH Bosniak women, Islam believers who decided to cover themselves with hijab, had a reason to take to the streets on this day to protest against the decision of the High Judicial and Prosecutorial Council BiH which forbid all religious clothes, of any religion,  in the judiciary institutions in BiH.
"My hijab My Pride", "My hijab -My right", "Reversal of hijab is the abolition of identity" are some of the messages written on the banners taken by female Bosniak citizens of the city of Mostar on Monday morning. The demonstrators, covered with hijabs, were walking from Musala Square, Fejic street, through Old Town, and over the Old Bridge. With this walk they wanted to show to the public their opinion about the decision of the ban on wearing headscarves in public institutions.
Azra Hasanbegović, director of the Association of Women of BiH, although she was not wearing the hijab, participated in the walk with the intention to support women in their efforts to preserve the right to wear headscarves.
"It is their basic human right to carry and dress in the way they want. The decision to prohibit the hijab is absurd because it is not a religious symbol. In fact, religious symbols exist in many offices and it should be abolished. I know women who are very smart, talented and educated and working in responsible positions and now they have to choose a job or way of dressing. It is real absurd", Hasanbegović stated.
Member of the Parliament of the Federation of BiH and medical doctor Selma Jakupovic, came to this event to show that she is against various prohibitions, saying that she equates the ban on headscarves with the ban of freedom of expression.
"I support the decision to abolish religious symbols in public institutions, which is what it should be, but this is the same as to forbid long or short skirts, which is a form of freedom of expression", Jakupovic said to media on the event.
Ernesa Bihorac on her part felt her personality was being attackrd. Bihorac works as a professor of Bosniak language and literature. She initiated a petition against the decision of the High Judicial and Prosecutorial Council.
"I want to show that the citizens of BiH don't agree with this decision. It's not just about religious freedom, but in general the freedom and identity of the man to do what he considers is the best for him. This decision is in conflict with the BiH Constitution, because the Constitution guarantees us freedom of thought and expression", Bihorac explained.
As she said, she has the fear that other institutions will accept similar decisions and that she would be forced to decide between her job and the hijab.