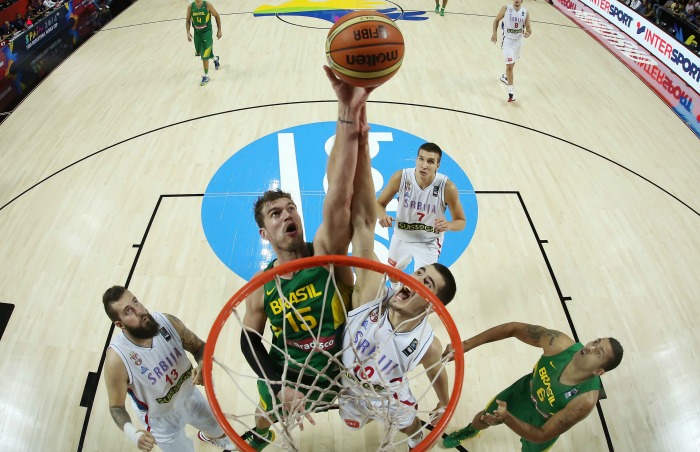 Review Hari Stefanatos
The Serbs in another one of their shows thrashed Brazil 84-56 and qualified for a second consecutive World Basketball Cup to the semifinals.
Serbia turned the quarterfinals to a "walk on the park", by beating the Brazilians 84-56 and is now getting ready for the big game against France in the semifinals.
In the first half, Serbia had the upper hand in the match, completely controlling the pace and had the lead by 29-23. In the next three minutes Brazil found solutions from Varezao in the offence and with a 0-9 streak took the lead (29-32). But that is as far as they went…
The rest of the match belonged to Milos Teodosic (23p., 3r., 4as.) and his gang. The Serbs played amazing basketball, did imposed their game on the Brazilians, who were left to watch, unable to do anything.
The difference even reached 31 points a few minutes before the end of the game, with Alexander Djordjevic's players celebrating another impressive display.
Periods: 21-17, 37-32, 66-44, 84-56.
Serbia (Djordjevic): Teodosic 23, Simonovic, Jovic, Bogdanovic Bongo 12, Bjelica N. 8, Markovic 9, Kalinic 5, Birtsevic 3, Krstic 10, Rantoulica 10, Stimac 4
Brazil (Maniani): Machado, Neto 6, Hesshaimer 2, Taylor, Garcia 8, Huertas 4, Barbossa 5, Varezao 12, Giovanoni, Nene 4, Vieira 13, Splitter 3
(Source: Gazzetta)