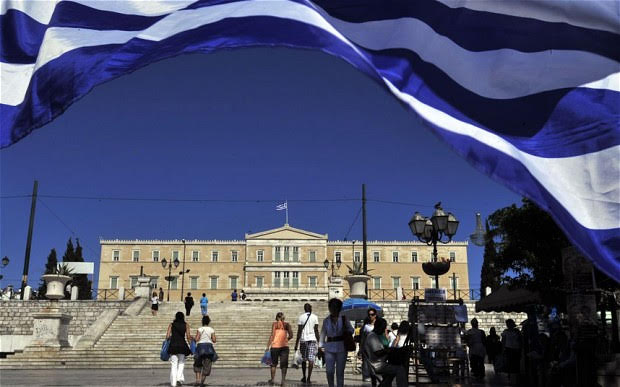 Tirana, 30 June 2015/Independent Balkan News Agency
In the Global Perspective report which has just been recently published by the World Bank, this institution says that "economic and financial pressure in Greece poses an extra threat for the region's predictions, although the exposure of other Eurozone countries has dropped since 2010".
According to the report, the banking system in Albania, Bulgaria, FYROM, Serbia and Romania, remains unprotected through the significant branches of Greek banks.
Among them, there's Albania and Bulgaria where Greek owned banks make up of 18% and 23% of the total of banks, posing a threat of the expansion of impact of the Greek financial system to these countries.
After banks, the report mentions remittances [funds from migrants] as a factor of risk, noting that the remittances that Albania receives from migrant workers in Greece makes up for 3.7% of GDP.
But the Albanian Central Bank excludes the possibility of the Greek crisis to be transferred through the banking sector.
Klodian Shehu, head of the Financial Stability Department at the Bank of Albania, says that Greek owned banks in the country have almost entirely closed the two possible channels of the crisis being transferred: first of all, they do not borrow from Greek banks and secondly, they are not funding the Greek debt.
Shehu doesn't exclude the possibility of impact, which according to him, will be shown on trade and investments.
Meanwhile,  the Albanian Association of Banks, on behalf of its member banks wants to reassure the public and all depositors and customers that the developments in the banking systems of the neighbor country do not affect the stability and normal functioning of the Albanian banks.
"Any actions of the Greek government and central bank about imposing measures on the Greek financial system have no legal effect in Albania, and can in no way affect the normal functioning and the stability of the Albanian banking system", AAB explains.
According to AAB The Albanian banking system, including banks with Greek shareholding, is financially and operationally independent from the banking systems of other countries.
"All commercial banks are established in Albania as legal entities, which carry on banking activity under provisions stipulated on the Albania's legal and regulatory framework, including the capital requirements and banking supervision. None of banks operating in Albania does represent any branch of any foreign bank", AAB says.   /ibna/