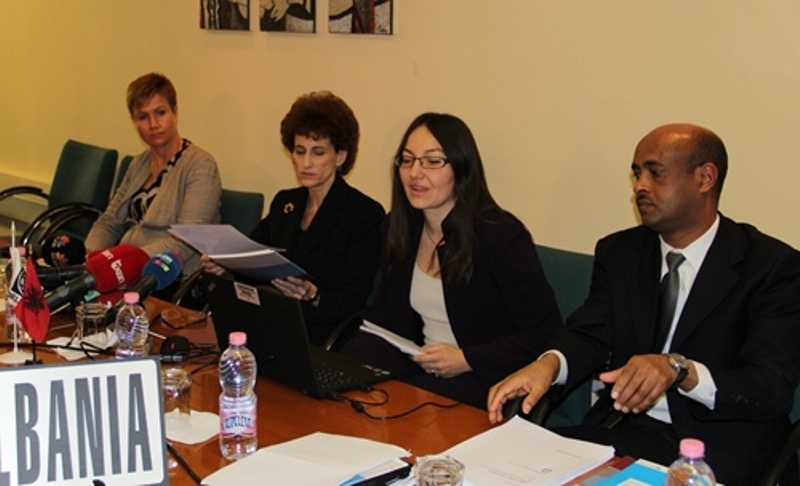 The countries of the South East Europe region exited from recession in the first half of 2013, led by improved export performance, according to the latest World Bank. Average growth of real income of the six countries rebounded from negative 0.7 percent in 2012 to 1.8 percent (year-on-year) in the first half of 2013, supported by nascent recovery in the Eurozone
Tirana, December 10, 2013 / Balkan Independent News Agency
World Bank says that Greek crisis has continued to have an impact, especially on Albania, while in the forecast for next year, it predicts a smaller, but sustainable growth in Albania.
Albania is considered to be the country with the second lowest growth in the region, while starting from next year, pace of growth will be improved reaching a level up to 2.1%.
Directress of the World Bank for Southeast Europe, Ellen Goldstein says that Albania has maintained a constant economic growth and none of the other countries of the region has seen this kind of growth.
Mrs. Goldstein underlined that "next year, we're predicting for this growth to be positive".
According to World Bank, Albanian economy will recover in the years to come and an economic growth of 1.3% is expected during 2014.
As far as Albania's public debt is concerned, World Bank predicts this debt to amount to 76% of Gross Domestic Product by 2018.
For the World Bank, the only way to achieve a gradual fall of the debt's curve would be through a reformation of the taxing system, pensions and power supply system.
As far as this is concerned, Albanian government says that the new fiscal package that it's preparing, will bring a fiscal discipline which has been missing in the recent years.
The government has also provided for a medium term program for the payment of outstanding debts and a concentration of investments in priority projects.
On the other hand, World Bank will help the Albanian government with a loan from 10 to 200 million USD.
The region came out of recession
Directress of the World Bank for Southeast Europe, Ellen Goldstein says that the region has come out of recession, assisted by a recovery in the Europe Zone.
Presenting an annual report for the region in Tirana (photo), Regional Directress for Southeast Europe, Ellen Goldstein said that in the first half of 2013, regional exports have increased by almost 13% in the first half of the year. According to her, "the good weather conditions strongly contributed for agricultural production to have an impact in economic growth and to weaken inflationist pressures".
"Industry – especially manufacturing exports and energy – drove the recovery," says Gallina Andranova Vincelette, Chief Economist and co-author of the SEE RER. "The region experienced a welcome surge in exports in 2013, particularly car exports from Serbia."
The report notes on the downside that domestic demand remained depressed across the region, reflecting high unemployment, sluggish growth of household incomes and credit, and a difficult investment climate. Beyond these short-term factors, a slowdown in productivity growth and rising unit labor costs adversely affected economic growth, lowering competitiveness and demand for labor.
Abebe Adugna, Chief Economist and co-author of the SEE RER, explains:  "Unemployment in the region, at about 24 percent on average, began to decline in the first half of 2013 from its peak crisis levels.  But even where employment has recovered significantly since 2010, the gains were not broad-based and mostly concentrated in services. Industry continued to shed jobs in 2013 throughout the SEE6 region. Short-term economic growth will still not be strong enough to support substantial gains in employment in the short run". /ibna/