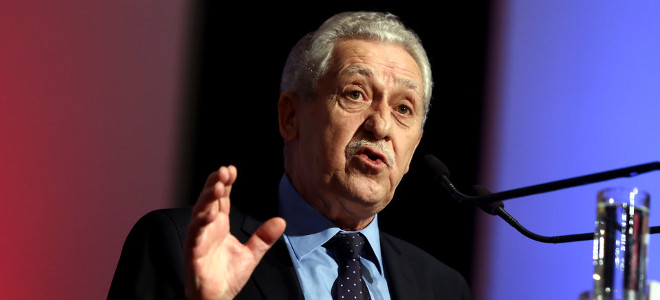 By Spiros Sideris – Athens
Fotis Kouvelis said it clearly, opening the conference of DIMAR, that will vote against any proposal submitted by the current government in order to lead the country to early elections.
"The rejection of any proposal brought forward by the government partners for the presidential election should be considered given, with the current parameters", said the president of DIMAR.
He also made it clear that there is a need for a "gradual policy change towards a progressive direction", which "requires a change of government" since "the current coalition government, does not want and cannot implement progressive policy".
Fotis Kouvelis reiterated that the elections are causing instability, tremors and destabilisation, but "the current constantly growing unease among citizens destabilises the government and brings closer the possibility of elections".
As to his personal ambitions, he reiterated that did not care for the presidential office. "As regards with me personally, since the beginning I have been repeating that I am president of the Democratic Left".
I am interested in the complete restoration of the political life of the country, for the reconstruction of the area of democratic socialism, the creation of the conditions for progressive governance of the country. All the rest does not concern me. In my path over the years I have shown that I can take decisions with political cost", Kouvelis stated, using the words of Georgios Papandreou "I do not owe anything to anyone".
The chairman of DIMAR said openly that he aims to shape a coalition of progressive forces without any absorption of the forces that will participate, opening the door to DIMAR's participation in a government led by SYRIZA.
As he noted: "our participation in a possible progressive government aims to the introduction of a new concept for politics, that will serve the public interest" and "will not be about the political and personal survival of anyone".
Kouvelis made a lukewarm criticism of his actions as a member of the tripartite coalition. He admitted that "we had significant subjective weaknesses" or that "we made mistakes", but insisted that his policy was correct, since "we were not incorporated in power grabbing and conservative politics".
To Fotis Kouvelis replied the secretary of New Democracy Andreas Papamimikos, who speaking at the conference of DIMAR, described as "institutional blackmail the declarations of voting against any candidate for the Presidency of the Republic". In addition, he spoke of a potential political disorder if the minority caused early elections on the pretext of the election of the President.
"In these difficult times of the most critical negotiation, and just before negotiating on the debt, there is no room for political party games. That is why the government calls for vote of confidencee. We are determined to move forward", said. Papamimikos, but expressed the hope that with the Left of responsibility "we can we meet again".