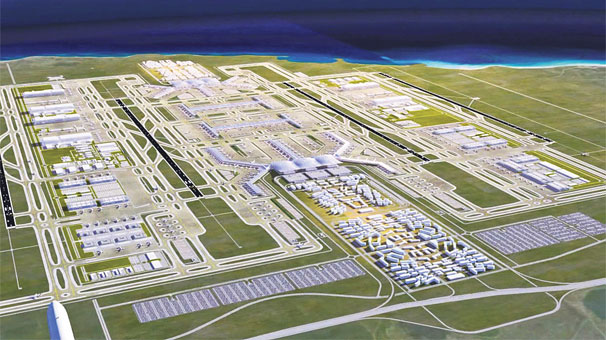 Erdogan signals the beginning of construction works on June 7
By Manolis Kostidis – Ankara
Works start on the construction of the third airport in Istanbul which, according to the turkish government will be the largest in the world .
The foundation ceremony of the works will take place on June 7, and the Turkish Prime Minister Recep Tayyip Erdogan is expected to attend.
The project for the construction and operation is being carried out by a consortium of the turkish companies Limak-Kolin-Cengiz-Mapa-Kalyon. Manufacturers promise to pay 22 billion euros to the turkish government, with the construction cost expected to exceed 10 billion Euros!
When the project is completed in 2018, Istanbul's new aitport will serve 150 million passengers. It will have 165 gates, 4 separate buildings for passengers' service, eight control towers and six runways. This new airport that is to be built in northern Istanbul by the Black Sea, will have 500 aircraft parking seats and a car park for 70,000 vehicles.
According to the consortium of manufacturers, for the construction project will be used 350,000 tons of steel, 10,000 tons of aluminum and 415,000 square meters of glass.
However, there are some who express their reservations about the project, arguing that the cost of 22 billion as well as the construction cost are excessive. They fear that the decline of the growth rate of the turkish economy in addition to the higher interest rates will be a big obstacle to be overcome by manufacturers.
When in 2013 the consortium had taken up the project, the interest rates of the Central Bank were 4.5% and now they are about 9.5%. That's one of the main reasons that Erdogan is pressuring the Central Bank for a bigger reduction of interest rates in order to avoid the "freezing"  of the major projects he has been planning, which will guarantee the growth of the Turkish economy.