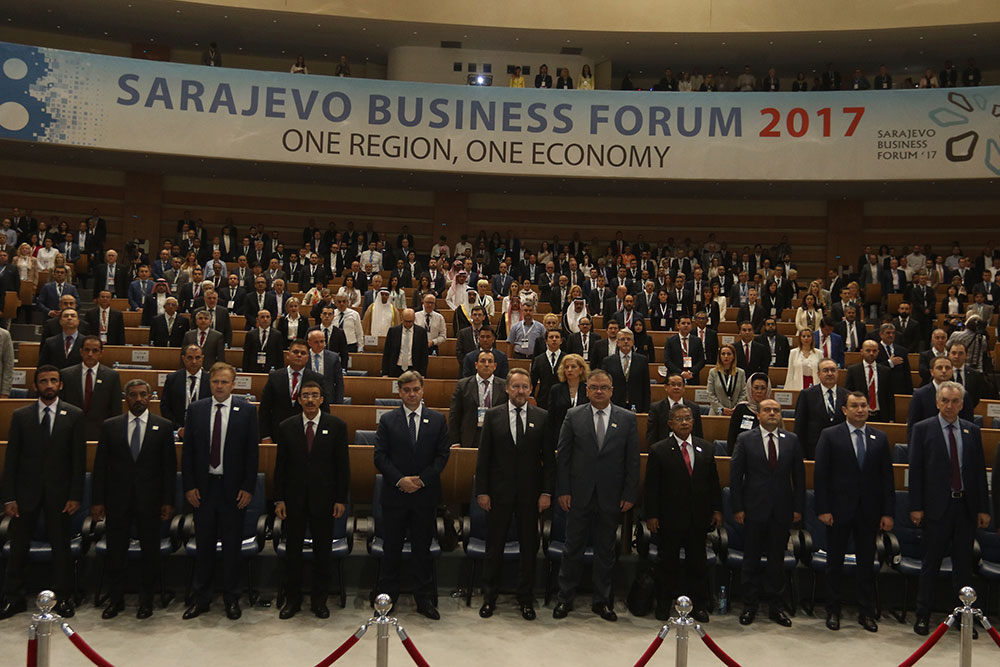 The 8th "Sarajevo Business Forum" (SBF) gathered investors from several countries and it is expected that participants will sign a large number of contracts between their companies and BiH partners.
Addressing the participants at the opening session, BiH Presidency Chairman, Mladen Ivanic, said that the fact that BiH expect EU candidate status by the end of this year can be a positive sign for investors.
"BiH has a number of advantages that are not normally visible because our daily life is too dedicated to dealing with political difference"s, Ivanic said at the SBF opening session.
He added that the duty of politicians is to change and improve the image of the country, making it attractive for investments. Ivanic expressed his belief that with a different perception of the state in international circles, many serious investors will come to BiH. Ivanic said that, in order to attract foreign investors, local investors must work well and achieve good results. When BiH, as he said, turns its attention to these topics it can achieve very good and positive results because this is what this state needs.
"The best way is to put aside political differences that we know cannot quickly be resolved. We must initiate the change of the country's image, to create conditions for the arrival of investors, to make investments happen and to support employment", Ivanic said.
Amer Bukvic, CEO Bosna Bank International, said in his remarks that "trust is at the heart of every business deal", that it is incredibly delicate and powerful. Bukvic emphasized that it is also at the heart of this year's theme: building a bridge between East and West.
"As this region moves closer to EU integration, our global partners can build avenues of commerce that create value here and abroad. Our theme 'One Region, One Economy' is also alive and well: no single country in Southeastern Europe can accomplish this on their own. Only with a united approach and strong cooperation can our Region represent opportunity for investors. Our differences should be presented as an opportunity and not a threat. As such, this year's discussions will integrate energy, infrastructure, education, IT, tourism, trade and agriculture into a broader international context", Bukvic stressed.
Complementing these themes, he added, SBF is honored by the significant EU presence. Bukvic, informed participants that this year SBF has established cooperation with the EU Delegation in BiH and a link with the European Business Summit, which is taking place in Brussels at the same time as SBF.
"The key to our success as a corridor for business is our entrepreneurs. Southeastern Europe needs their open-mindedness, courage, and daring. These qualities will shepherd and develop business opportunities from thousands of kilometers away. Our entrepreneurs will need help, however. Success requires a joint-effort with governments and regional development institutions", Bukvic said.
The forum will close its doors on Tuesday and it is expected that participants will show the good will to invest in BiH and, more realistic, to sign several contracts. Countries which sent their delegations in Sarajevo are Australia, Azerbaijan, Bahrain, Bangladesh, Belgium, Denmark, Germany, Hungary, India, Indonesia, Iraq, Kuwait, Malaysia, Netherlands, Pakistan, Poland, Qatar, Saudi Arabia, Switzerland, Turkey, the United Arab Emirates, United Kingdom and the United States./IBNA