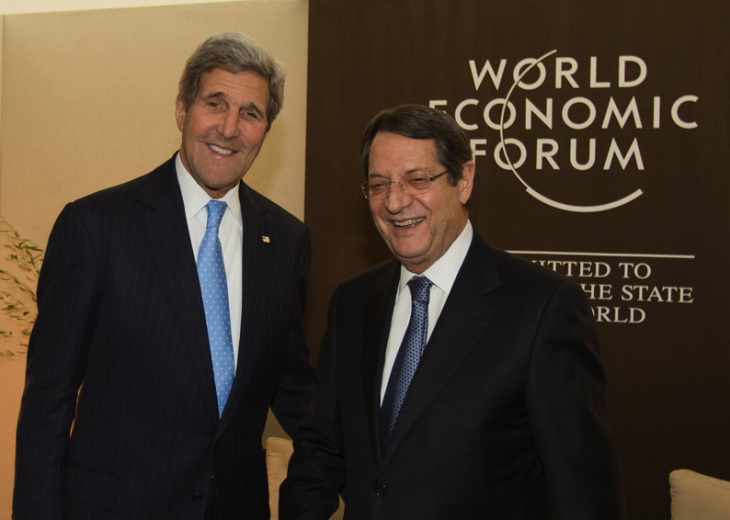 Nicosia, January 23, 2015/ Independent Balkan News Agency
By Kyriacos Kyriacou
The United States are working to create the conditions which will make it possible for the UN-led peace talks to resume, US Secretary of State John Kerry told Cyprus President Nicos Anastasiades during a meeting, on the sidelines of the World Economic Forum, in Davos, on Friday.
In a written statement Government Spokesman Nicos Christodoulides says the meeting took place in late afternoon and lasted about 45 minutes.
The two men discussed matters of mutual interest as well as recent developments in the Cyprus problem with emphasis on Turkish violations of Cyprus` Exclusive Economic Zone (EEZ), Christodoulides points out.
"President Anastasiades briefed Kerry on his decision to suspend his participation in the Cyprus talks, as a result of Turkey's blackmail and threats," he adds.
On his part, Christodoulides continues, US Secretary of State "reiterated his country`s position on the Republic of Cyprus` inalienable right to use and exploit its natural resources in its EEZ."
"He also pointed out that the USA are working in the direction of creating those conditions which will make it possible for substantive talks to resume", his statement concludes.
President Anastasiades suspended his participation in the UN-led peace talks following a Navigational Telex or NAVTEX, issued by Turkey in October last year, as Turkish seismic research vessel "Barbaros" violated the Republic's exclusive economic zone.
Repeated calls for the withdrawal of "Barbaros" went unheeded by Ankara, which announced recently the NAVTEX`s extension until April 6, 2015.
On Friday, Turkish Prime Minister Ahmet Davutoglu said natural gas found around Cyprus would go through Turkey if there is peace on the island, state broadcaster CyBC reported.
The Turkish prime minister was speaking to businessmen at Davos. Davutoglu said Turkey aimed to become an energy hub and have pipelines from neighbouring countries go through its territory.
It also emerged that Anastasiades will be visiting Egypt on March 15, at the invitation of Egyptian President Abdel Fattah el-Sisi, who is also attending the Davos forum.