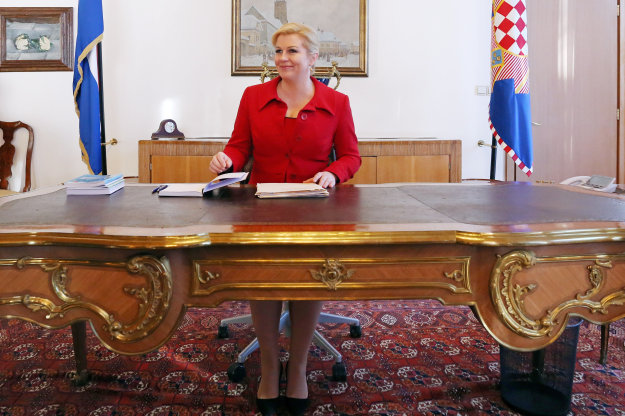 Zagreb, February 19, 2015/ Independent Balkan News Agency
By Marija Avramovic
President of Croatia Kolinda Grabar-Kitarovic began on Thursday her mandate and it was preceded by last night's handover of the Office with former President Ivo Josipovic.
The President on her first working day called Prime Minister Zoran Milanovic and announced to him that she intends to propose a joint session of the government, on which economic issues would be discussed.
"At any time Prime Minister Zoran Milanovic is available for consultation and discussion with the President of the Republic", came the answer from the government today, when Croatian news agency asked whether the Prime Minister accepted the invitation for the interview in her office at the Presidential Palace.
First day in the office and the first day of her mandate Grabar-Kitarovic will make decisions on the appointment of her advisers and the organisation of Council for war veterans, and later in the afternoon she is to visit the veterans protesting in front of the Ministry of Veterans, it was confirmed from her office.
Grabar-Kitarovic received a letter from a group of civil organizations gathered in the Platform 112, in which they complimented her election success, wished her success in the office and expressed hope that they would cooperate well with her.
In addition, they expressed their concern to the president about the selection of her closest associates in terms of respect for human rights and resented her selection of a number of guests at Sunday's inauguration.
"We regret that the choices of your co-workers included guests to people who are prosecuted for war crimes, corruption and threats, and omitted the director of the Jasenovac Memorial", activists from the Platform 112 warned the fifth president of Croatia.