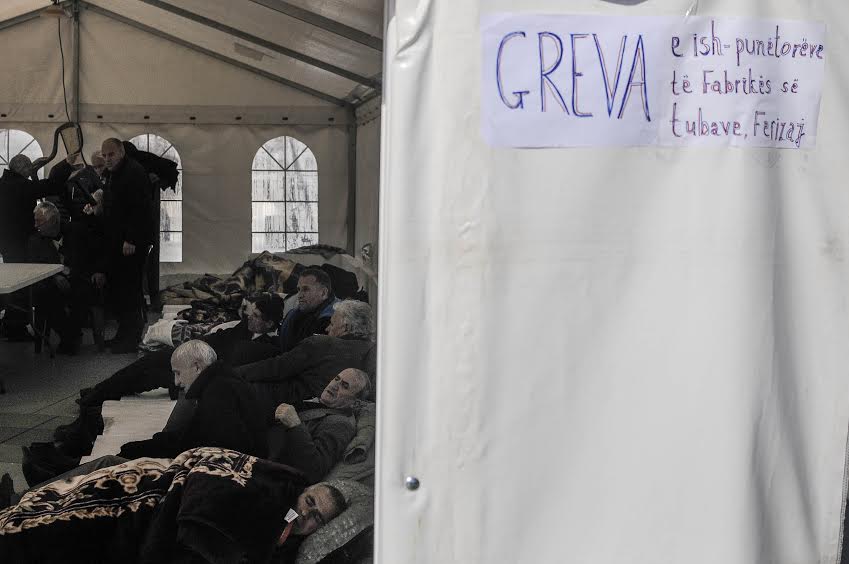 Former economic giant of Kosovo, Plant of Steel Pipes in Ferizaj, which was privatized in 2007 by Arian Hasani, a citizen from Ferizaj, has not provided work for the 900 workers of this plant. Workers of the plant of steel pipes from Ferizaj are protesting in front of the government of Kosovo's building. They demand the ruling of the Constitutional Court which entitles them to benefits from the privatization of this enterprise, to be applied. They have decided to start a hunger strike
Pristina, March 14, 2014/Independent Balkan News Agency
By Elton Tota
Former workers of the Steel Plant in Ferizaj, who were forcefully laid off in the '90s, have started a hunger strike in the past 24 hours and say that the strike will continue indefinitely.
They say that they will continue the strike until the government of Kosovo respects the ruling of the Constitution Court, according to which these workers must be paid an indemnity of 30 million Euros, upholding the ruling of the Court of Ferizaj in 2002.
The head of the committee of strikers, Ali Shabani says that the government and Kosovo's Agency of Privatization (KAP) must apply the ruling of the Constitutional Court, but according to him, both sides are passing the responsibility on to each other for the application of the decision and nobody is dealing with the demands of the former workers of the pipe plant.
"After holding 119 protests in order to have our demand  fulfilled which is guaranteed by the Constitution of Kosovo, it's been 12 years that we travel from Ferizaj to Pristina", says Shabani.
Strikers have set March 21 as their final deadline, after which they've declared that they will radicalize their protest.
Shabani says that Thaci's promises during the electoral campaign have remained mere promises and adds: "We knew that Thaci was only asking our votes and he has never intended to meet the promise".
Ferat Ibishi, former worker of the Pipe Plant says that workers are demanding the government to pay the debt that it owes to them.
"We're surprised about the fact that the state doesn't worry the least for these workers. If there's a state, it must take care of us. If there's no state, then let them take us and throw us in an abyss", says Ibishi, who doesn't conceal his anger and sorrow.
Workers say that they will continue the strike until their demands are met.
"We will stay here until our demands are met", said some of the workers who were staying at the entry of the tent since the early hours of today (14.03).
Others, covered in blankets, have been staying within the tent, in order to show their determination that they will not give up.
Privatization of the Pipe Plant throws 900 workers on the street
Privatization of the Steel Pipe Plant in Ferizaj in 2007 led to 900 workers to be laid off. The plant was bought by a local, Arian Hasani, for 3 million and 657 thousand Euros, while he has invested in it an amount of 13 million and 200 thousand Euros. Workers say that businessmen and politicians are behind Hasani, who up until then was a simple worker. In June of 2011, the shares of the Pipe Plant were sold to "Mabetex" for 3 million and 69 thousand Euros.
Many former workers, who used to be paid up to 1 thousand German marks, live in very difficult economic conditions now.
In 2000, the workers of this plant, who were forcefully removed from work during the Serb regime from 1989 until 1999, started a lawsuit at the Court of Ferizaj in order to demand their rights. The court ruled that they should be compensated for a period of 10 years that they hadn't been paid. The ruling of the Court of Ferizaj was upheld by the Constitutional Court of Kosovo, but workers have not received the money amounting to 30 million Euros. /ibna/