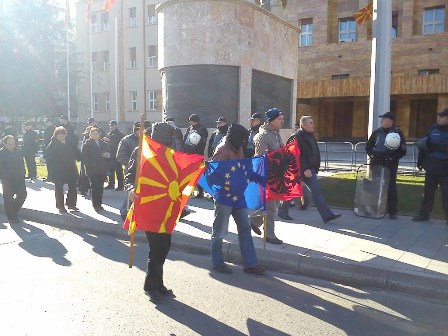 Skopje December 12, 2013 / Balkan Independent News Agency
Several hundreds of workers from companies gone bust in the former Yugoslav Republic of Macedonia protested on Thursday in front of parliament in Skopje, while parliament is holding debates on the Bill on Social Insurance for redundant workers.
Former workers have attempted to go over the barricade that was set up by police in front of parliament, but they were stopped by special units, reports balkaneu.com journalist who is following the course of events.
The chairwoman of the former workers of bankrupted companies, Liljana Georgievska declared that this bill must solve the problem of around 6 thousand people who are part of this category and who are facing serious social problems.
"This is a true genocide and it doesn't happen in any other state. We will protest in front of the houses of MPs until a solution is found to our problem. We will stay in front of parliament and we will set up tends there if the bill is not voted", declared Georgievska.
The workers that have been thrown on the street say that they're facing extreme poverty and health problems. "We have no money, life is becoming dearer and we cannot do anything about this. We cannot secure our daily bread, we cannot go to the doctor or buy medicines. We appeal for help and massive protests to say stop to extreme poverty", says for balkaneu.com B Ismaili, a worker who was thrown on the street after the company where he had been working for many years, declared bankruptcy. Protestors declared that they will remain in front of parliament indefinitely and that they will set up tends there until their problem is solved.
While protestors continue to remain on the street, parliament continues to debate on the request of the Social Democratic League (LSDM) in order to find a solution for this social category.
LSDM lawmaker, Golupco Angelov says that the objective is for parliament to urgently solve the status of this category on the verge of extreme poverty which cannot secure adequate means of living.
"They have remained without bread and they cannot meet the most basic needs of their day to day living. The state is to be blamed for this", declared Angelov MP. /ibna/