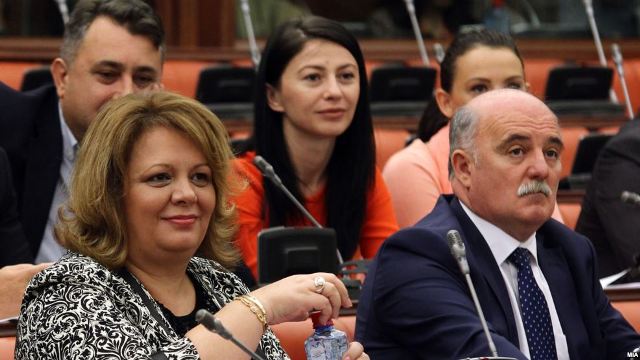 Skopje, 5 October 2016/Independent Balkan News Agency
By Naser Pajaziti
Parliament in FYROM has not backed the changes in the Bill for Special Prosecution for the extension of investigations and witness protection programs. VMRO-DPMNE and BDI have voted against these amendments requested by this prosecution, but proposed by the Macedonian opposition.
The head of VMRO-DPMNE's parliamentary group, Ilija Dimovski said that Special Prosecution has turned into an extension of the largest party of the opposition, SDSM.
"There is no difference between the Public Prosecution and SDSM. The prosecution is holding a campaign on behalf of SDSM and SDSM assists the prosecution. Therefore, we voted against these requests and we will vote against these requests in the future too", Dimovski said.
Spokesman of SDSM, Petre Silegov said that Nikola Gruevski and his party fear Special Prosecution and do not want the investigations to end for cases in which they are involved.
"The objections against these amendments and the recent behavior of VMRO-DPMNE against the head of the Special Prosecution, Katica Janeva, shows that VMRO-DPMNE doesn't want a strong prosecution, which would finalize the investigation that it has started. With today's voting, VMRO-DPMNE MPs covered the crime which is being investigated by the Special Prosecution", Silegov said.
Although a few days ago, BDI said that it would back the requests of the Special Prosecution, these requests were only supported by some MPs. Meanwhile, PDSH's MPs, the other Albanian party in opposition, were not in parliament.
Former public prosecutor, Jovan Trpenovski said that it was clear that VMRO-DPMNE doesn't back these changes, because Special Prosecution will indict its leaders.
"By acting this way, they are protecting themselves. The party in power is buying time to block the investigations of the Special Prosecution, which according to the law, last 18 months", Trpenovski said.
Special Prosecution was established last year and its job is to investigate materials from the wiretappings scandal, containing conversations of senior state officials, which incriminate them in unlawful acts. /balkaneu.com/