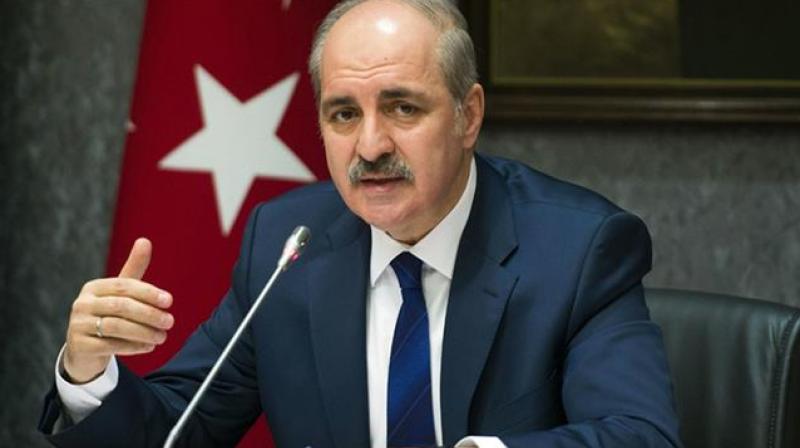 Ankara, August 29, 2016/Independent Balkan News Agency
The United States "should keep its word" and force the Syrian Kurdish Democratic Union Party (PYD) to withdraw to the east of the Euphrates, Deputy Prime Minister Numan Kurtulmuş has said, responding to U.S. President Barack Obama's special representative Brett McGurk's remarks on Turkey hitting PYD targets.
"The U.S. knows Turkey's sensitivity on this issue. A promise was given: The PYD won't be west of the Euphrates," Kurtulmuş told journalists in Istanbul on Aug. 29, referring to Ankara's demand that the PYD moves back to the east of the Euphrates.
"We expect the U.S. to use its influence on the PYD," he added.
Earlier, Washington had criticized clashes between Turkish forces and some opposition groups in northern Syria on Aug. 29 as "unacceptable," calling on all armed actors in the fighting to stand down and focus on the fight against Islamic State of Iraq and the Levant (ISIL).
"We want to make clear that we find these clashes – in areas where ISIL is not located – unacceptable and a source of deep concern," Brett McGurk, the special presidential envoy for the coalition to counter ISIL, said on his official Twitter account, citing a defense department statement.
In response, Kurtulmuş vowed that Turkey will "protect itself from future attacks," adding that it "cannot sit back and watch an attack that could come from Syria."
"If the whole region falls under control of a single group, the PYD, then Syria will be divided. We are in favor of [maintaining] Syria's territorial integrity," he said.
Kurtulmuş also commented on the situation in Manbij, a town that the Syrian Kurdish forces recently took from ISIL, saying that "one of the promises given to Turkey was that the PYD would evacuate from Manbij."
Ankara has repeatedly insisted that the People's Protection Units, the armed wing of the PYD, should return east of the Euphrates as soon as possible.
It says the PYD, which has allied with the U.S. in the anti-ISIL fight, is linked to the outlawed Kurdistan Workers' Party (PKK), which has recently escalated its attacks in Turkey.
The Turkish military backs a number of Syrian rebel groups in their advance on ISIL across its border with Syria, while it also targets the YPG forces.
Source: Hurriyet