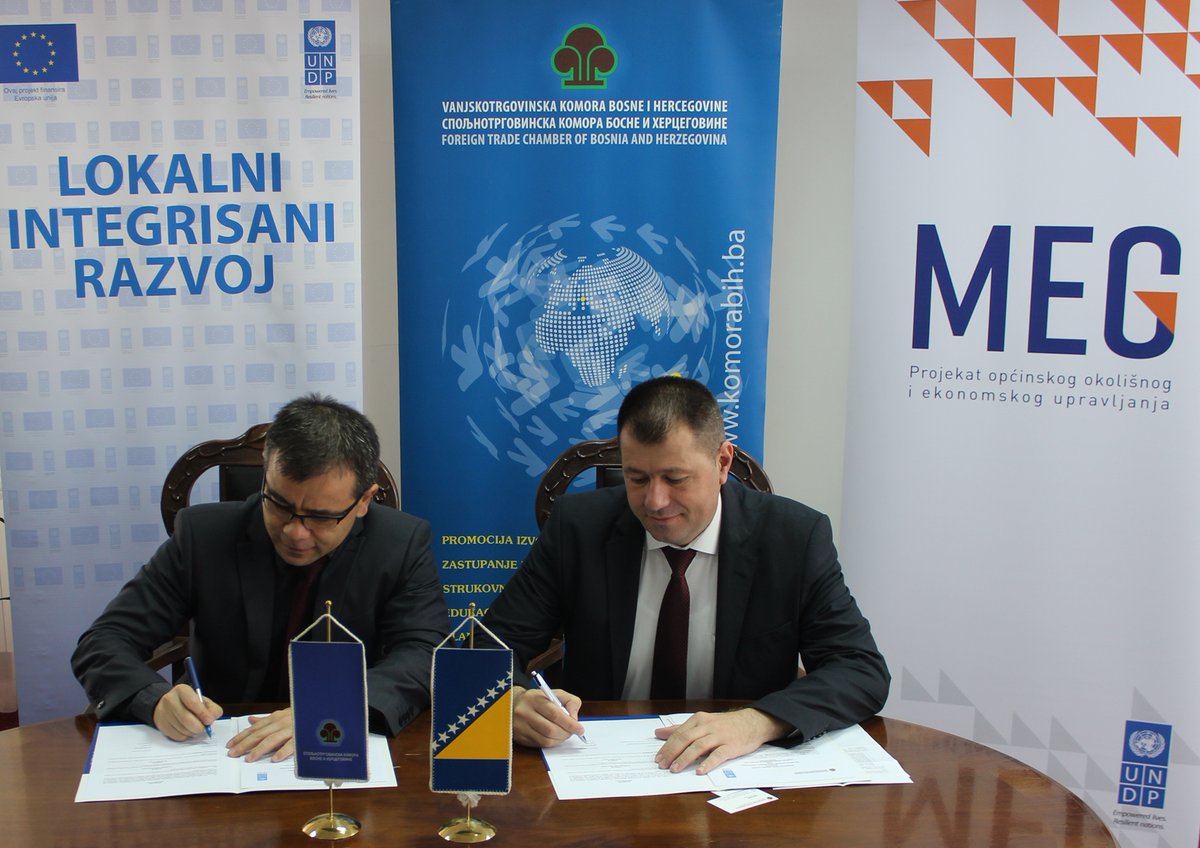 The United Nations Development Programme (UNDP) in BiH and the BiH Foreign Trade Chamber (FTC) signed a Memorandum of Understanding aiming to support growth of wood industry as the strongest export oriented sector in BiH, announced at Thursday UNDP office in BiH.
"Through value chains assessment conducted by UNDP, wood sector has been identified as one of the most important sectors for BiH economy. In 2016, total BiH exports of wood products were BAM 1,188,865,450 which is an increase of 12% compared to 2015.  The wood sector is the only major manufacturing sector with a multiple positive foreign trade balance (361% in 2016). The wood sector is employing almost 30 000 people in BiH, stressed UNDP in announcement.
According to this release, BiH is a country with the largest share of forest and the greatest diversity of forest types in the Western Balkans. The forests are one of the most important natural resources in the country. According to the latest data, forests and forest land in BiH encompass an area of 3,231,500 hectares, which represents 63% of the total country area, with quality of wood that is among the highest in Europe. In order to use these natural resources, sustain the growth, and create new opportunities for wood processing companies, BiH authorities initiated concrete activities on the development of a country-wide "Export Growth and Development Strategy for the Wood processing industry in BiH, for the period of 2018-2022".
As part of the agreement, UNDP BiH will support FTC BiH in conducting analyses and development of the wood sector strategy for BiH including access to latest industry trends and market intelligence data. The strategy will provide guidance for increase competitiveness of BiH companies, as well as identify weaknesses which deter further industry growth in the country but also limits access to new markets.
"The wood industry is one of the most promising industries of Bosnia and Herzegovina and realized exports was mainly due to the extraordinary efforts of the companies from wood industry, but it does not have adequate support from relevant ministries and institutions. We hope that the Strategy for export growth and development of the wood processing industry in BiH will define the goals, concrete measures and necessary actions to be taken in order to enable greater growth and development of the wood  industry, and secure supply of raw materials and implement changes in the export structure towards a higher level of product finalization and securing the necessary professional workforce," said FTC BiH president, Ahmet Egrlić.
UNDP BiH Deputy Resident Representative, Sukhrob Khoshmukhamedov, said the the signing of the Memorandum of Understanding and cooperation with the Foreign Trade Chamber of BiH, will open the new door for UNDP to support wood industry, as export oriented sector which significantly contribute to economic development of Bosnia and Herzegovina.
The technical assistance to the FTC BiH will be provided jointly within two UNDP projects – Municipal Environmental and Economic Governance (MEG) and Local Integrated Development (LID). UNDP has also included wood sector as a priority sector for financing mechanism implemented with the Federal Ministry of Development, Entrepreneurship and Crafts. In addition, LID project has supported five small and medium enterprises in wood sector to increase their competitiveness in furniture manufacturing./IBNA