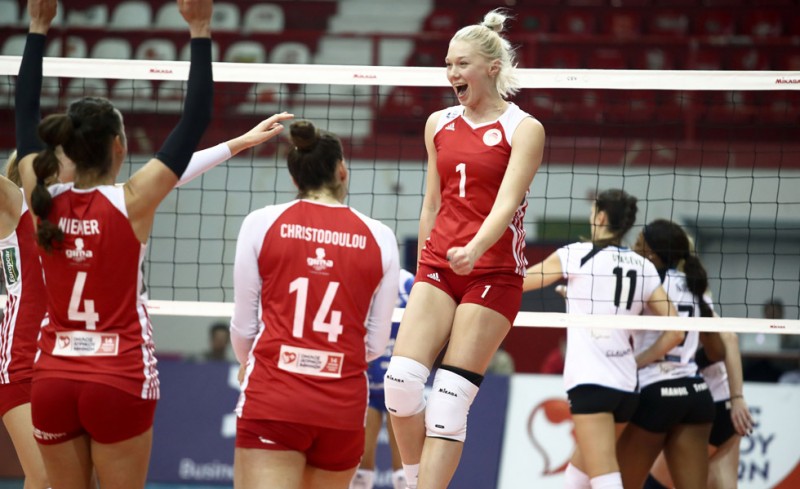 The female volleyball players of Olympiacos SFP PIRAEUS "replied back" to the Romanian ladies of C.S.M TARGOVISTE with a 3-1 victory, in Romania.
The volleyball athletes from Romania had won the Greeks in the first game, but the second one proved a "legendary" game and victory for the Piraeus Club players, in Piraeus, Greece, thus 'entering' the CEV Challenge Cup quarterfinals.
According to the official page of the CEV Challenge Cup, "the two sides delighted the 1,500 fans in the stands with Volleyball at its finest. Olympiacos SFP PIRAEUS, however, started better into the first set and were ahead by 8-3 (…) Guillermo Naranjo's squad managed to build a six-point advantage and to prevail 25-16 in the second set.
Nevertheless, Olympiacos SFP PIRAEUS fought their way back into the game due to the overwhelming pipes by German internationals Jana Franziska Poll and Saskia Hippe.
The home squad did not want to give in, despite a 3-8 deficit in the beginning of the set, but once again it was German internationals Jana Franziska Poll and Saskia Hippe to make the difference. Poll and Hippe led the Greek champions to a 25-22 win in the fourth set to clinch a berth in the CEV Challenge Cup quarterfinals."
Olympiacos SFP PIRAEUS coach Branko Kovacevic said he felt relieved, stressing that,  "(…) It was the first time this season we played such a strong team. I am very glad that we made the next round."
As for his C.S.M TARGOVISTE colleague, Milagros Collar, he thanked all fans present who supported the team and noted his was proud of the girls, "… despite today's defeat. We showed that we can compete with the strong teams in Europe."…/IBNA