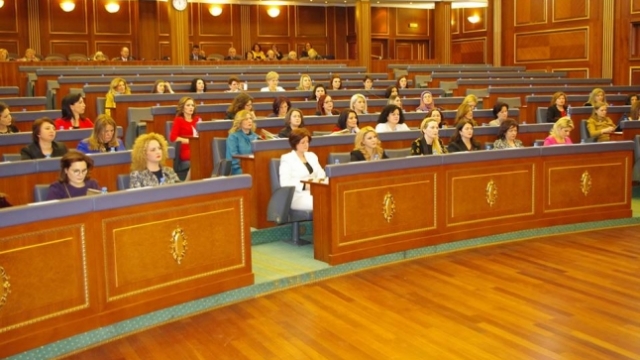 IBNA Special Report
Pristina, March 9, 2015/Independent Balkan News Agency
By Elton Tota
Women in Kosovo, especially those who are represented in the political life of the country, demand higher representation in state institutions.
On the occasion of the World Women's Day, March 8, they launched criticism against the government in Kosovo for totally neglecting the role of women in decision making.
Kosovo Democratic League (LDK) MP, Alma Lama, said that democracy would be an illusion in case women are not equal to men in the aspect of economy, security, education and science.
"We must govern everywhere, because we represent half of society. Throughout history, Albanian women have showed that they work hard to consolidate the state. March 8 is the Women's Day, but slowly, we're turning this day into the day of Albanian women, where we, Albanian women and girls, raise our voice for more equality and dignity", declared Lama during her speech in the parliamentary session held in the Parliament of Kosovo, with the representation of other women MPs from Kosovo, Albania, FYR Macedonia, Montenegro and Presevo Valley.
Another LDK lawmaker, Teuta Sahatqiu said that women in Kosovo are very little represented in the political life.
"Constitution and laws of Kosovo guarantee an equal representation of women in institutions, but in practice, it's not that easy to make it possible. For the first time today, Kosovo has a female president. Kosovo also has a woman mayor. But, out of 22 ministries, only two of them are represented by women. Out of 14 parliamentary committees, only 4 of them are chaired by women, while three parliamentary groups are chaired by women and here we have an advantage over men", declared Sahatqiu.
The same opinion was also shared by the head of the Parliamentary Group of the Alliance for the Future of Kosovo, Donika Kadaj-Bujupi. She accused PM Isa Mustafa and his deputy, Hashim Thaci for not giving the necessary attention to women.
Kadaj-Bujupi mentioned the very small representation of women in the government. She said that women in Kosovo and women in general deserve much more.
Meanwhile, minister Edita Tahiri said that the involvement of women in decision making means development, prosperity and more democracy.
"Today's message is: Let us open doors for women, because this means development, democracy and national unity. We have been oppressed in the 20th century, but the 21st century is the century of Albanians and we are leaders in peace, stability and development", said Edita Tahiri.
Self Determination demands gender equality
55% of women are unemployment and only 5% of women have properties on their name.
With these figures, activists of Self Determination have protested on Sunday in "Scanderbeg" square in Pristina, by saying that unemployment among women comes as a result of the neo-liberal model which combined to the patriarch system of values, has oppressed women.
Thus, Self Determination believes that new values must be cultivated in society and where the division of work in the public and private life must be equal for both women and men.
Teuta Rrusta, activist of this movement, said that the stereotyping of work is one of the reasons why women find comfort in the gloomy domestic environment.
According to her, they depend on the man and are forced to do physical domestic work.
President Jahjaga: Gender equality generates development for each society
President of the country, Atifete Jahjaga declared in a media appearance that gender equality generates development in every society.
"Today, Kosovo needs a more clear perspective for development, for the opening of new jobs and to build a better future for our children. Therefore, on this March 8, on the World Women's Day, when we assess our joint efforts and the constant engagement to narrow down the inequality gap, I call for women to be strengthened economically, because this means economic strengthening of our country and a safer future in the great European family", declared she.
On this day, Prime Minister of Kosovo has sent his wishes to women on the occasion of March 8, stressing that emancipated societies have a large representation of women in the economic and social life.
"The values of a society are not measures by single numbers, but they are reflected through harmony. We will work together to build our values", he declared.
Meanwhile, deputy PM of Kosovo, Hashim Thaci declared that society in Kosovo will be stronger when women and men will have equal rights.
"We're still far from this ideal, but today we recall the role of women as partners, collaborators not only in our freedom and democracy, but also in building a better family filled with love", Thaci said.