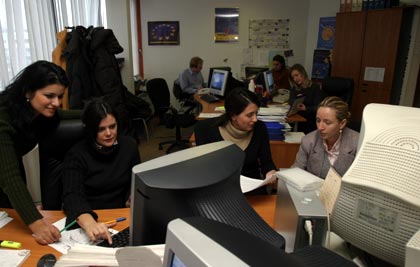 Skopje, February 5, 2014/Balkan Independent News Agency
In former Yugoslav Republic of Macedonia, there are growing concerns over women from small ethnic groups who must be emancipated and enjoy equal rights in the domain of education and labor.
Non Macedonian women have a smaller representation in the country's institutions. This situation is a direct result of the lack of emancipation, discrimination and patriarchal life.
In the recent years, Albanian women have managed to be represented in every domain of the social, institutional and political life in FYR Macedonia, but this level is not satisfactory due to their small numbers.
On the other hand, representation of women of other communities such as the Roma and Turkish community, is much smaller, due to the level of education, patriarchy and integration.
Recently, an EU backed project through IPA funds has attempted to improve this situation in several areas of the northwestern part of the country. The project called "Education, employment and equality for women of ethnic groups" was implemented by Economic Chamber of Northwestern  Macedonia in partnership with the Association for local rural development and "Senec-Pezinok" regional agency from Slovakia.
Expert on social issues, Fatima Bejtullai-Vela says that women must be encouraged and they must be given opportunities, because they often result to be more successful than men.
"Despite current circumstances, women in Macedonia have made progress in the aspect of integration, education and personal development. Based on the projects and programs implemented so far, which have aimed to enhance the woman's role in society, institutions or other domains, in spite of formal obstacles, it has been proved that women have the necessary abilities to outperform men", says Fatmia Bejtullai-Vela.
She also calls on women to do what they aspire, starting with work, education and integration.
***
To a certain extent, Albanian woman is represented in politics and the best example for this is current mayor of Tetovo and former deputy prime minister, Teuta Arifi. Mrs. Arifi is one of the only female leaders in FYR Macedonia, not only amongst Albanians, but Macedonians too.
Nevertheless, representation of women in politics continues to be low. Political parties are not open to women and do not offer them equal treatment.
Enisa Murseli from "Shpresa", an NGO, says that the main cause for this skepticism of political parties relates to the Balkan mentality and tradition.
"Our Balkan tradition and culture affects participation of women in decision making positions to a large extent. Therefore at the present, organizations and civil society movements here in Macedonia have set up their network aiming at supporting and increasing the role of women in politics. This also aims to raise awareness amongst political parties to have a 30% representation of women in their electoral lists, but also in other levels of representation and leadership", says Enisa Murseli.
***
Men dominate state and local government administration in FYR Macedonia. A study carried out by the the Ombudsman on the state of domestic violence and representation based on gender indicates that 47,5% of employees in the state administration are men, while 29,4% are women.
Women dominate in education, social work, health system and partially in the judicial system.
Head of the Ombudsman Office, Ixhet Memeti suggests legal changes and opportunities that must be offered in order to achieve gender equality, as the foundation for the development of democracy in the Republic.
"All institutions and organizations must be made fully aware about the need to offer legal equality and practical equality for women and men in all aspects of life", says Memeti.
The head of the Economic Chamber for Northwestern Macedonia, Menderes Kuci, told IBNA that women from smaller ethnic communities are less represented in managerial roles and corporations.
"Economic Chamber of Northwestern Macedonia has launched several incentives to empower women in business. Through these incentives, we aimed at increasing the number of businesses set up by women, to boost up the ambition of entrepreneurs to expand their businesses and to inspire more women in becoming business leaders. We're making constant efforts to get women more involved and this has often been the case", says Kuci.
Mayor of Bernevica, Enver Pajiziti says that as a rural commune in West Macedonia, this local government institution has endeavored and launched programs for the integration of women and their representation in local government and other institutions.
"We have made progress, but we're not yet happy. We have worked hard to offer equal employment opportunities and this has also been the case in our commune, where we have women representatives", says Pajaziti. He adds that central government institutions must do more in order to promote projects of this nature and to encourage integration, education and equality of women in employment. /ibna/