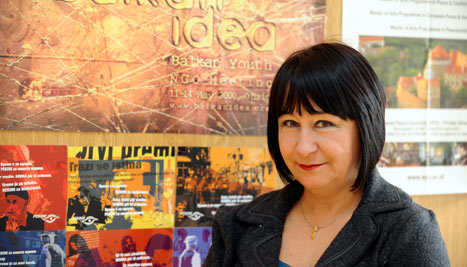 Skopje, February 5, 2014/Balkan Independent News Agency
University professor of political sciences at the University of Skopje, Biljana Vankovska has launched a campaign in order to collect the necessary signatures which will allow her to run for the presidential elections as an independent candidate.
Independent candidates must gather 10 thousand signatures in order to be entitled for nomination. The signatures will be collected from February 16 until March 2 in regional branches of the Ministry of Justice. Vankovska has received wide support by many people through social networks to run for president. In an interview for IBNA, she has expressed her opinions about the developments in FYR Macedonia.
"The situation in Macedonia is serious (in the domain of education, health system, judicial system, corruption and unemployment), up to a point that I sometimes wonder if 'God' would be able to solve them overnight. It's been 20 years that we make one step forward and two steps backward and today we don't know why we find ourselves in this situation. It's a shame for a country of 2 million people, which can be compared to a quarter of a world capital, not to be able to find solutions for the basic needs of the citizens. Citizens believe in miracles, such as integration in the NATO. I would like to be more optimistic, but from what I see, I cannot fell this way", had declared Vankovska. /ibna/