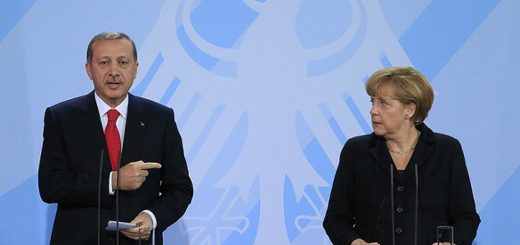 As the elections in Germany are approaching, the Berlin-Ankara relations are worsening with unpredictable consequences for the two countries.
Just hours after the statements by Angela Merkel and Martin Schultz in their debate, where they expressed views on Turkey's European course, Turkish Presidency spokesman Ibrahim Kalin issued a Twitter statement, accusing Germany.
"It was no coincidence that our President Erdogan was the main subject of the debate. Germany's and Europe's attacks on Turkey/Erdogan by overlooking essential and urgent problems, reflect the narrowing of their horizon".
After the harsh attack, Calin left a window on diplomacy after stressing that "we hope the troubled atmosphere that made the Turkish-German relations a victim of this narrow political horizon will end".
Foreign Minister Mevlut Cavusoglu,  issued a stronger statement, claiming that Europe was returning to the values ​​that prevailed before World War II. "Europe must escape populist policies. They are moving away from European values. Europe returns to the values ​​that prevailed before World War II. Germany should not have come to this point".
The Minister of EU Omer Celik argued that the two leaders in their debate attempted to dictate the EU what to do. With the bricks of populism they are building a new Berlin wall", he said, pointing out that Turkey continues with their head held high, being a European country and a European democracy.
The Turkish Foreign Ministry, after condemning the statements of the German leaders, said that "to the politicians who ran behind us to save the EU from a major immigration crisis, we must remind them that it is dangerous to leave the two countries' relations to populism. They have political responsibilities towards their citizens, among who are also those of Turkish origin".
Turkey's relations with Germany and many other EU countries such as the Netherlands and Austria have deteriorated rapidly this year.
Recently, Turkey banned German MPs who wanted to visit the German troops at Indirillik Air Force. As a result, Berlin announces that it is moving its soldiers outside Turkey. There is also the issue of the 11 German citizens who have been arrested and are detained, including Die Welt newspaper reporter Deniz Yücel. One of the two German citizens who were arrested last week in Turkey for "political reasons", is being accused of involvement in the failed coup in July 2016, was released, the German foreign ministry said today.
Ankara accuses Berlin of not cooperating to persecute those who have participated in the attempted coup. They argues that Berlin shows leniency towards "terrorists", housing Kurdish separatists and alleged coup instigators. For its part, Germany strongly condemns the wave of persecution in progress in Turkey.
Turkey claims to have sent an extradition request to Germany for one of the main suspects, as well as for many other officers who have taken asylum in Germany.
More than 50,000 persons have been arrested and 150,000 have been given forced leave or fired in the crackdown that followed the failed military coup.
Erdogan had called on the Turks in Germany to vote against Merkel and Schultz
On 18 August, Recep Tayyip Erdogan had called on the German Turks who vote in the German elections not to support Merkel, the Schultz and the Greens whom he described as "enemies of Turkey".
"There are about one million Turkish voters who exercise their right to vote and change this course. I urge them not to vote for the parties that have shown aggressive and abusive behaviour towards Turkey and I invite them to give a lesson to these parties when they go to the polls", Erdogan had stated.
"We will not tolerate any interference in Germany's internal affairs", was the clear message sent by the Chancellor to the President of Turkey.
Erdogan has said in many interviews that he is hoping that relations with Berlin will be normalized after the German elections, but without saying how this could happen. According to the turkish media, about 1.7 million Turks have a German passport and about one million of them will vote in the upcoming elections./IBNA