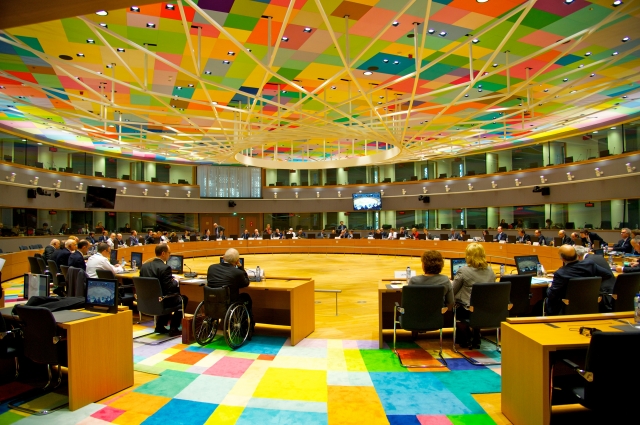 With… wishes that the third review would be concluded by the end of the year and great concerns about the ex-ELSAT chief A. Georgiou, the Eurogroup in Tallinn was one of the fastest in the recent history. Greek financial program was one of the two main subjects on the agenda. The future of the monetary union was the second.
"We got a report from the institutions on topics that are being worked on at the moment. Technical teams are at the moment in Athens, fact-finding and preparing the grounds, so that later on the third review can get off to a quick start. The idea is to finish that before the end of the year. More work needs to be done of course on a number of issues some of which were already mentioned today", said Dutch Minister of Finance, Jeroen Dijsselbloem, President of Eurogroup.
"We also addressed ongoing court cases against the previous director of Elstat. Let me underline here again that, across the room in the Eurogroup, great concern was expressed about the ongoing court cases, the effect that it has internationally on the confidence in Greece and the process of modernisation in Greece, including the independence, of course, of Elstat itself. That concern was underlined and stressed. But of course the judicial procedures will go their independent ways", he added.
The third review will take place this autumn. It will mostly be dedicated to implementation of important reforms which have been adopted these recent months. There will be challenges of course. It will require intense work. My wish is that this work is done in a calm climate with constructive approach from all parts. And we must also build a complete strategy to conclude the programme and agree what will happen after the conclusion of the programme.
"It's in everybody's interest that this third review gives the signal – the powerful signal – which is the return of Greece to a situation which should be normal: full rights, full belonging and full support in the framework of the eurozone", Commissioner Moscovici claimed. "Of course, we share the concern expressed on the judicial cases in Greece. We fully respect the independence of the judicial system. But we see also that these cases create reputational damage and could, if no solution is found, damage the return of confidence among investors. So we, in full respect of the independence of the judicial system again, must find a solution".
Same concerns were repeated by the other two officials, Member of the ECB's Executive Board Benoît Cœuré and President of ESM, Klaus Regling./IBNA