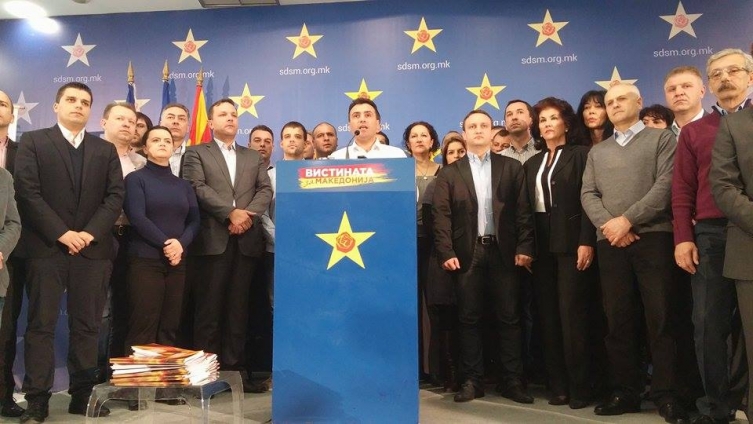 Skopje, February 27, 2015/ Independent Balkan News Agency
By Naser Pajaziti
Leader of Macedonian opposition published today fresh materials relating to the wiretapping scandal and the main protagonist was PM Nikola Gruevski. During this conversation, Gruevski is heard telling to the minister of Transport and Telecommunications, Mile Janakievski to demolish a building belonging to a Muslim Macedonian entrepreneur, Fijat Canoski.
In the 10 telephone conversations, PM Gruevski and minister Janakievski agree on bringing down the giant building known as "Kosmos" in the "Aerodrom" quarter in Skopje, belonging to the business Cankovski, who along with his party, Party for the European Future left the governing coalition in 2011 and joined the opposition.
The reason for the demolition was that Canovski was friend to the owner of the A1 TV network, who at that time was shut down on the pretext of tax evasion, but this TV network was also very critical to the government.
"The facts that we are publishing are undeniable. Gruevski avenges and in an unlawful way, he brings down the building belonging to businessman Canovski. This shows that Gruevski attacks everyone who do not agree with him", declared leader of LSDM, Zoran Zaev.
Zaev declared that nobody will be spared by the wire tapping scandal, neither Macedonians, nor Albanians. Zaev warned that he will continue to publish other materials on this affair. Two days ago, the opposition leader published materials which showed the wire tapping of over 100 journalists. /ibna/