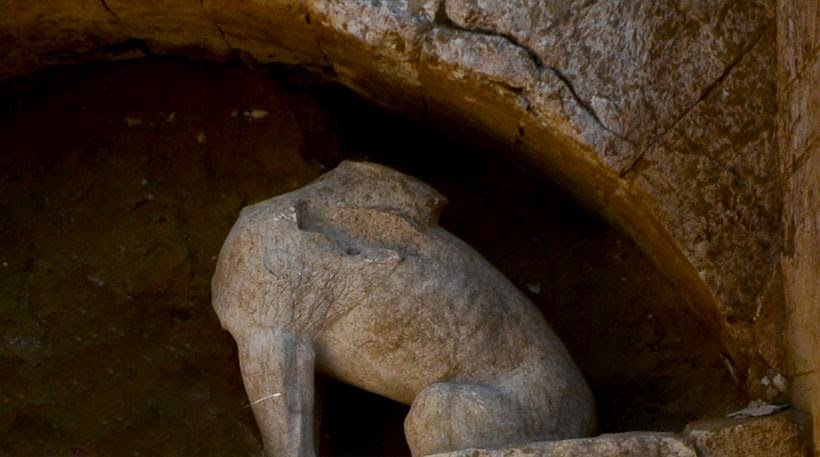 Review Hari Stefanatos
Archeologists discovered fragments from of the sphinxes' wings that will allow their restoration. The two statues exceeded two meters in height and came from the same workshop as the Leon (lion) – Archaeologists also found traces of blue and red in the upper part of the monument.
Both marble sphinxes found at the entrance of the Tomb of Amphipolis have been fully revealed, since the surrounding marble has been removed. The statues have a height of 1.45 m, while it is estimated that it would have been more than 2 m together with the heads, which unfortunately have not been preserved. Furthermore, archaeologists discovered fragments of the wings from both Sphinxes, which will enable them to full restore them, which means that the impressive statues will greatly resemble their original impressive form.
A portion of the back of the "Lion of Amphipolis" was also found, which helps certify that it was created in the same laboratory with the Sphinxes.
What is impressive is also the fact that archaeologists have discovered traces of red and blue color in the upper part of the monument.
These are the new data from the excavations conducted by KH' Ephorate of Prehistoric and Classical Antiquities in the region, according to today's announcement by the Ministry of Culture and Sports.
Secretary General of the Ministry of Culture, Lena Mendoni, is from this morning present in the area and monitors the progress of the excavation.
The full announcement of the Greek Ministry of Culture:
KH' Ephorate of Prehistoric and Classical Antiquities continues excavation work in the Tomb of "Kasta", in Amphipolis.
By the removal of the so far eleven stones of the wall that sealed the entrance, the entirety of the Sphinxes made from Thassos marble were revealed. The height of the statue is 1.45 m. The overall height with the heads is estimated to have reached two meters. In the torsos is reflected the plasticity and the detailed work of the last quarter-century sculptures of 4th century BC. During the work they found parts of the wings of the Sphinxes that were inserted in the torsos, which allow their complete recovery.
We also found part of the back of the statue of the Lion of Amphipolis. Both Sphinxes, and Leon seem to come from the same workshop.
With the removal of the soil, part of the superstructure of the monument was revelaed, which bears traces of red and blue, in two shades respectively.
Work continues at the level of the intrados of the dome, with the support and fixing of its stones as well as the removal of soil.
(Source: Protothema)