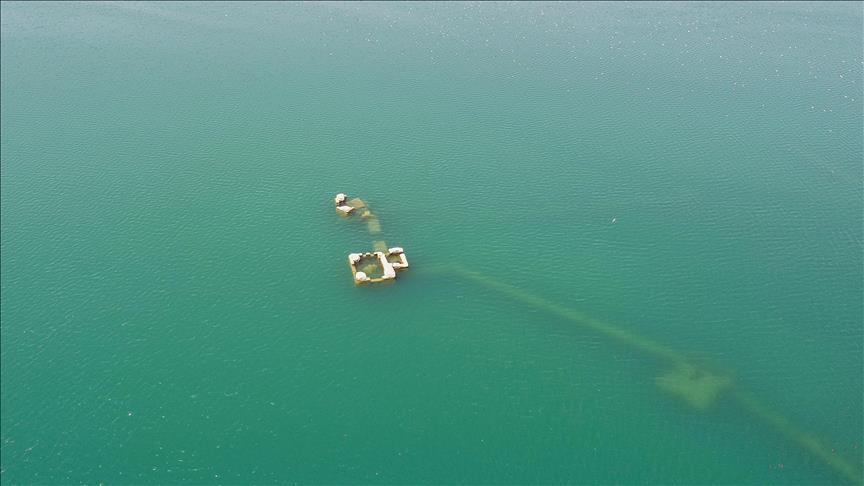 In a place of stunning natural beauty and major historic importance, scientists have found 4000-year-old archaeological traces from the area surrounding the submerged Turkish city, aka "Sunken City" in Lake Hazar, eastern Anatolia.
The sunken walled settlement went underwater in 1830. Very probably, it sunk as a consequence of the Eastern Anatolian fault line passing under the Hazar Lake which is still active "and has caused many changes in the water level of the lake through the history".
Right now, Turkey's main aim is to register its historic "Sunken City" in eastern Anatolia to the temporary UNESCO World Heritage list.
Lake Hazar is located in the Sivrice district of Elazig province and the southwestern part of the city is visible at a spot called "Church Island". According to Çiğdem Özkan-Aygün (Hazar Lake Sunken City), "In October 2005, an underwater survey was undertaken at Lake Hazar, where a sunken walled settlement was discovered which might confirm reports by travelers of a church and/or monastery1 in the area named Surp Nişan, Cowk, Dzowak, or 'Castle of the Lake', a religious center of the region in the 11th and 12th centuries."
Ebubakar Irmak, mayor of Sivrice district were the lake belongs said, "There are a lot of historic remains here and we as a municipality want it to be studied. We find here signs of life from ages ago and we take it very seriously. This will benefit world history and literature."…. / IBNA