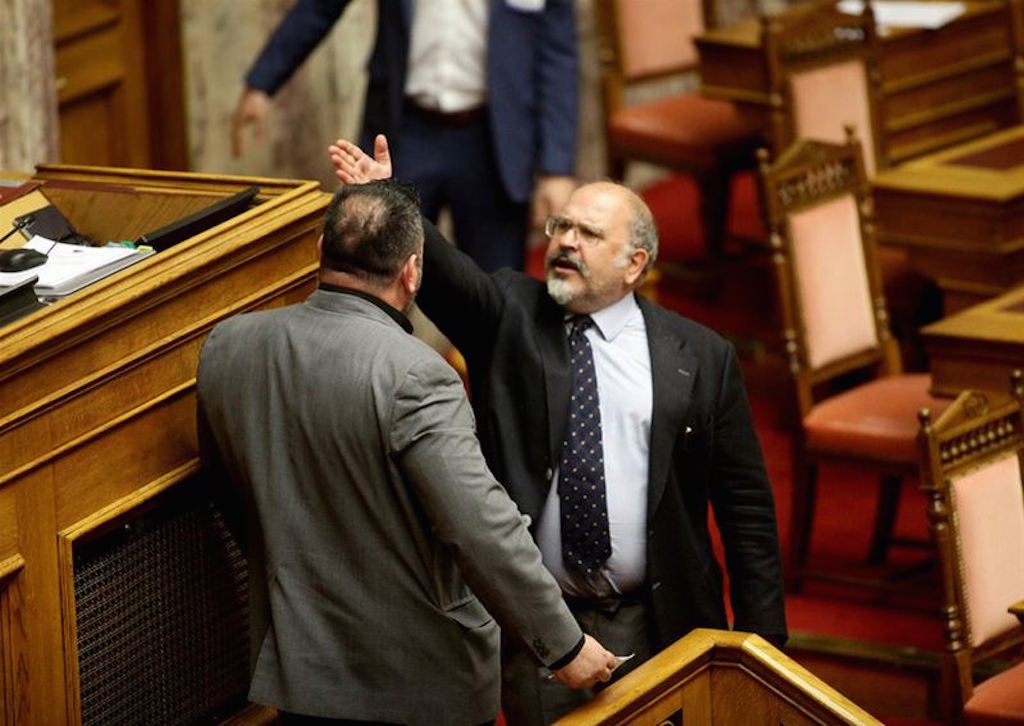 A fresh verbal brawl inside the Greek Parliament caused by Golden Dawn's MP Yiannis Lagos with the involvement of numerous other MPs from all parties took place during Thursday's session, after Lagos attacked SYRIZA MPs whom he called "traitors".
SYRIZA MP and Alternate Foreign Minister for European Affairs, Nikos Xydakis was the first to confront him by moving closer to him as Lagos had taken a stand in order to address the plenary, whereas more followed his example seconds later.
"Golden Dawn MP Yiannis Lagos, who was speaking about a letter sent by Pan-Macedonian Unions to Greek deputies, started shouting at SYRIZA lawmakers, calling them "swindlers", "anti-Greek" and "traitors".
"This hatred, with references to 'traitors' and 'gallows', shows a strategy aiming at causing tension. To weaken this strategy we must not just marginalize it and exclude it, it should be denounced with a strong voice from the entire political system. Without tactics and false analogies," he said after the incident", as ANA-MPA reports.
According to the body's head, Nikos Voutsis, the Greek parliament will consider expelling Golden Dawn party temporarily from its debates, saying that MP Lagos "will be referred to the parliament's ethics committee and then the body will discuss on Golden Dawn's presence in the plenum"… / IBNA