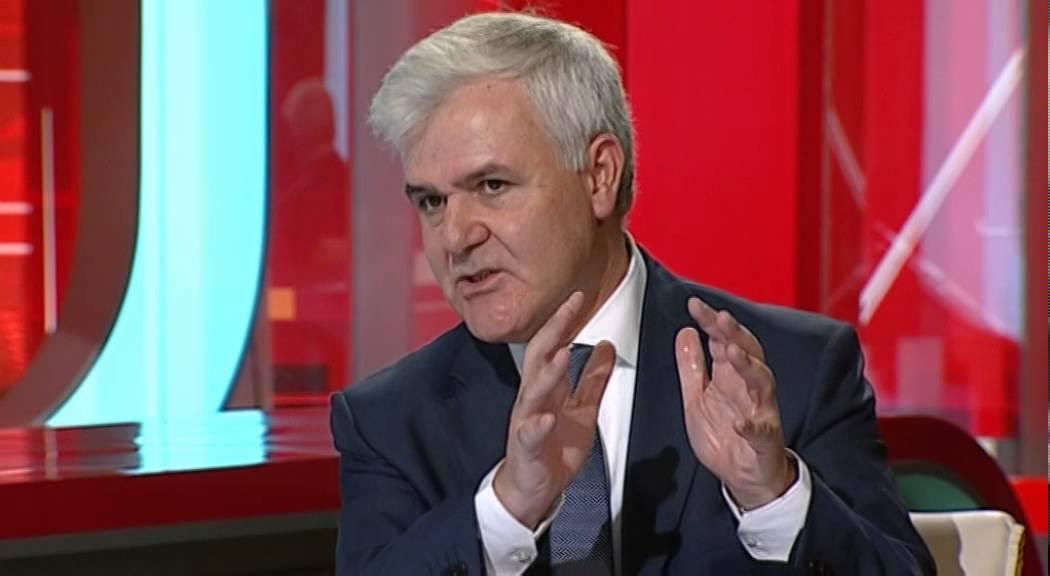 By Edison Kurani
A debate has broken out in Albania about the new minister of Interior. The Prime Minister has proposed for this post the chairman of the Parliamentary Committee for the Reform in Justice, the socialist MP, Fatmir Xhafaj.
But his name has prompted reactions amid civil society, because he is accused of having participated in crimes committed during the communist regime.
Former dissidents have held a protest on Friday against Xhafaj. Hundreds of them marched in protest along the "Nation's Martyrs" Boulevard. With slogans in their hands, the former dissidents of the communist regime joined the protest of the opposition in the "Freedom's Square", where they expressed their revolt for the killing without trial of over 6 thousand Albanians in communist prisons and for over 100 thousand people who were sent to prison camps for 50 years in a row.
"Do not forget the murderers. Do not forget the prisoners and the ones that imprisoned them. Edi Rama is their leader", was their message.
For Besim Ndregjoni, chairman of the Association of former Political Dissidents, Xhafaj must not be appointed in that post. He says that he has demanded from president Bujar Nishani not to decree "the instrument of dictatorship, Fatmir Xhafaj as minister of Interior".
Ndregjoni also publishes a photo, that you can see below, where the former minister of Interior during the communist period, Hekuran Isai, appears alongside Fatmir Xhafa, who at that time was investigator in Kruja.
***
Meanwhile, the opposition doesn't want Xhafaj anywhere near the ministry of Interior during these months prior to the elections.
The leader of the Democratic Party, Lulzim Basha said on Friday that "Albania is risking to be desecrated by a Prime Minister who is a nephew of Enver Hoxhaj's Political Bureau.
According to him, Rama "has decided to propose Albanians one of the most notorious investigators of Enver Hoxhaj's dictatorship, a man who has tortured with his hands the young girls and boys of Kruja, as minister of Interior".
Basha warns that the opposition will not allow for Xhafaj to become a minister: "I call on Fatmir Xhafaj to withdraw from the adventure that he has embarked on. He will not be not even for a moment the minister of Interior of the Albanian people".
***
Meanwhile, many are targeting Xhafaj in social networks. Publishing testimonies and facts, which according to them, show the crimes that Xhafaj has committed when he was an investigator, they demand his resignation.
One of them is 47 years old today. Xhavit Koni from Kruja has been living in Sweden for years. He says that he knows Fatmir Xhafaj very well, because in 1986, when he was 16, Xhafaj was an investigator in Kruja and according to him, he used tortures as a method to investigate. "He has used inhumane tortures against me and many others. I am prepared to travel from Sweden and face him about what he has done", he says.
Another testimony comes from Valbona (Duka) Maloku, the sister of the prominent writer, Arben Duka. She has a public denouncement against Xhafaj, whom she considers as a criminal of dictatorship.
"I cannot forget the 19 May 1986, when along with my family, I was interned in the village of Bruz-Mal in Kruja. Police seized my dowry. When I asked them to give it back to me, they told me that they had put it for sale and that it was bought by Fatmir Xhafaj", Duka says. Meanwhile, she adds: "My father died in internment and we, the three children, remained alone. Three weeks later, I was interrogated by Fatmir Xhafaj, who tortured me about my brother, Arben Duka".
Valbona too lives abroad and says that she is lucky that she doesn't live in Albania. Meanwhile, she says that "she has a lot to say about her tortures", which according to her, Xhafaj has inflicted on her.
The president keeps the new minister in suspense
Fatmir Xhafaj is one of the main figures of the Socialist Party. He has been minister of Justice for several years and the media has never attacked him for corruption affairs.
But his job as investigator during the communist regime and a photo with Enver Hoxha, have smeared his image. Xhafaj himself doesn't comment the numerous accusations addressed to him. He is waiting for Nishani to decree him. The same thing is also being done by the Prime Minister who proposed him.
On the other hand, the President has announced that he will verify the new names, including Xhafaj. /balkaneu.com/