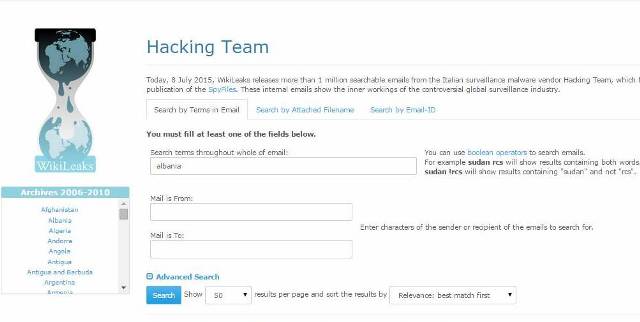 Tirana, 13 July 2015/Independent Balkan News Agency
Albania has been involved in talks to buy equipment which would be used to eavesdrop mobile phones and modern communication means, including applications such as Facebook, Skype, Whatsapp or even photo galleries and conversations in through mobile phones and computers.
Wikileaks has published negotiations taken place with 'Hackingteam', following the leakage of the company's internal documents.
The emails for Albania that you can see by clicking here, contain chaotic information, which reveal an interest for the purchase of these equipment by Tirana. The talks described through electronic communication, include the President of Republic, Bujar Nishani, the prime minister which appears to have no name, SHISH (Secret Services), Ministry of Defence, Ministry of Interior and Ministry of Transport.
The talks lasted around 2 years
For around two years, a foreign company has been in contact with Albanian officials interested on purchasing from it computer programs, which serve to eavesdrop computers and smartphones.
But in the meantime, documents reveal that the negotiators of the other side were not very prepared and it was very likely they didn't know which agency in Albania was interested for the materials.
The e-mails reveal that representatives of the company had visited Tirana and had made a demonstration to the interested Albanian side, showing them what the service was for.
The travels and demonstration have been made in January-February 2014 and it's not known if from that moment, Albania has acquired such equipment and if it has been agreed with "HackingTeam" or if another company was selected.
This is not the first time that the Albanian government tries to purchase eavesdropping equipment.
A similar one was acquired by SHIU (Military Informative Service) and it was said that it was used in illegally eavesdropping the opposition when the Democratic Party was in power.
Allegations for the eavesdropping of several politicians were also launched in the media (there was more talk about the names) and parliament, but it was never discovered how they were eavesdropped.
The eavesdropping law in Albania gives to the General Prosecution the authority to allow eavesdropping and monitor how it is done.
State Informative Service and Military Informative Service (SHISH and SHIU) can carry out these eavesdrops, but it's the prosecution that evaluates and monitors them. /ibna/