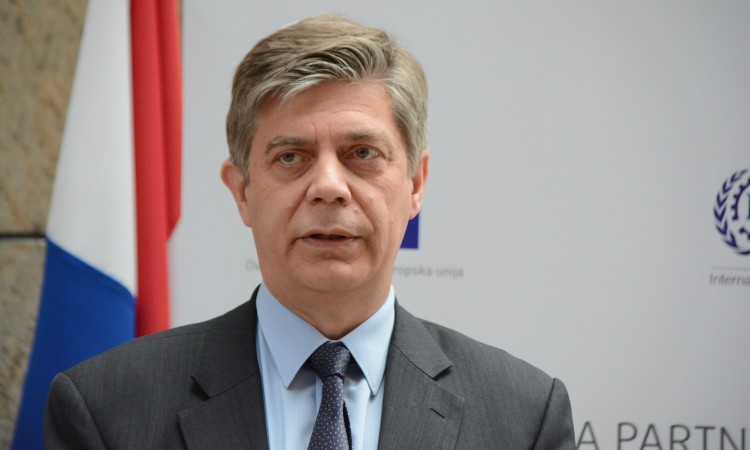 Head of the EU Delegation to Bosnia and Herzegovina, Lars Gunnar Wigemark, reminded on Monday all political leaders in BiH who earlier this month met with senior representatives of the European Commission, Federica Mogherini and Johannes Hahn, on their common commitment to reforms, emphasizing that it is now time to confirm that and not to enter into the usual daily political debate.
He added that all of them said on these meetings that nobody of them will stay as the obstacle on BiH path toward European Union.
"Now is the moment of truth and it is on them to show how honest they were. You can't say one thing to EU and our partners, World Bank and International Monetary Fund, but say something else here in the country", Wigemark said.
He urged all institutions to start working again and added that EU doesn't take political games in BiH very seriously since they seems as the games between politicians only. EU, according to Wigemark, believes that citizens in BiH want just "jobs, jobs and jobs".
Wigemark thinks that the electorate needs to hold politicians responsible if they are not working and doing the job they are paid for. At the press conference, Wigemark commented the uncertainty of the arrangement with the IMF, due to blockage of the Law on Excise Tax.
"The arrangement with the IMF is not threatened if the institutions are doing their part of the job. If you do not work, then the citizens must be the ones to remind  institutions and politicians of this responsibility, and we all know who is responsible. Elections will come, it is not on us to tell you who to vote for", Wigemark said.
IMF set the March 24 as deadline for BiH institutions to fulfill obligations in order to continue the arrangement. After BiH this regular deadline expired and BiH politicians didn't reach agreement on conditions, the IMF extended the deadline to March 31. Adoption of the Law on Excise, which envisages an increase in excise duty on fuel by 15 cents per liter, is one of the conditions for the continuation of the arrangement.
BiH Minister of Foreign Trade and Economic Relations, Mirko Sarovic, confirmed that this disputed Law is one of the items to be discussed on Tuesday session of BiH Council of Ministers, but that it is very questionable whether it will get the green light.
"Some of the actors in this arrangement does not want to hear the arguments of the Alliance for Change who understands the issues of the Reform agenda and the importance of the arrangement with the IMF. Through the law we demanded the support for the agricultural sector in the entire BiH, because this sector is particularly vulnerable after the adaptation of the SAA. Further increase in the price of oil and petroleum products for another 15 pfennig will lead this sector in a very disadvantageous position", Sarovic said.
He expressed his willingness to talk with key stakeholders in the IMF as well as the entity governments to find a solution for farmers./IBNA