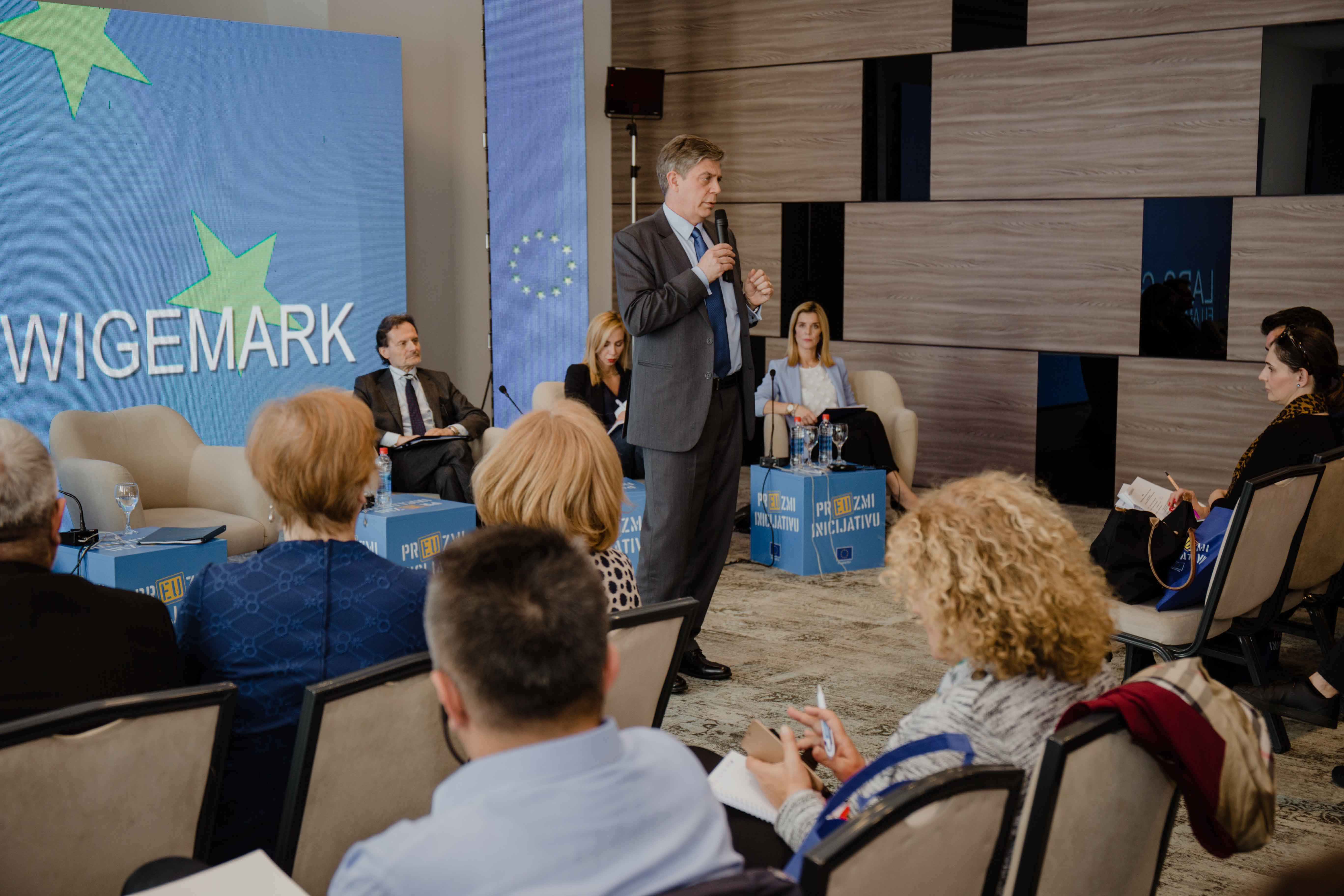 The Office of the European Union Special Representative (EUSR) in BiH has launched the 'Take initative' ('prEUzmi inicijativu') project, within which public debates on the challenges and opportunities offered by the EU accession process will be held in nine local communities across BiH.
The first debate was held in Sarajevo, hosted by the Head of the EU Delegation and EU Special Representative Ambassador Lars-Gunnar Wigemark.
"I believe that the European Commission will soon publish its Opinion on BiH's membership application, which will confirm that BiH can become an EU member someday. Of course, there is a lot that will need to be harmonised with EU regulations and legislation," said Wigemark
In response to a question from one of the participants, Ambassador Wigemark said that the European integration of BiH, above all, requires the participation of all citizens and complete transparency of all processes.
"In that manner our role, the role of EU representatives, will decrease and the responsibility of BiH citizens themselves will increase," added the EU Special representative.
Spanish Ambassador to BiH José María Valdemoro Giménez, British Ambassador to BiH Matthew Field, as well as domestic and regional experts joined the highly dynamic discussion with over 100 entrepreneurs, representatives of public institutions and NGOs.
Ambassador Field stressed that his country is present in many projects in BiH and reflected on the issue of BiH citizens leaving to EU countries.
"Citizens want to see a stronger rule of law, better public services, jobs and growth. Citizens need to demand from elected politicians to do precisely what they were elected to do. All these reforms will bring the country closer to the EU," stressed Field.
Ambassador Giménez emphasised that the EU and its Member States are prepared to support all BiH institutions that work towards European integration.
"There are many challenges that BiH will need to respond to on its EU path, which is why it is necessary for it to direct all its strength into reform processes. Before EU accession, Spain was also in a difficult situation. There was very high unemployment, Spain was like any other third world country. However, after the implementation of necessary reforms and joining the EU, it became one of the most dynamic countries of Europe," said the ambassador.
Following the debate, participations visited the Info-educational Fair where EU-funded projects were presented, which directly contribute to economic and sustainable growth of local communities.
Public debates will be held in further eight local communities across BiH in the upcoming period./ibna