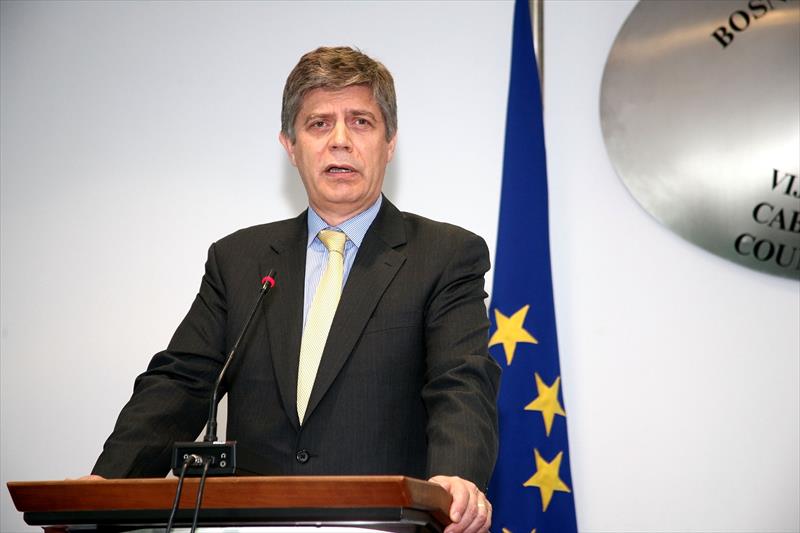 Sarajevo, October 26, 2015/Independent Balkan News Agency
By Mladen Dragojlovic
Head of the EU Delegation to BiH and EU Special Representative Lars-Gunnar Wigemark said in Sarajevo on Monday that the EU wants BiH to be as close as possible to the full membership and that this country must promote the EU agenda, which can help transform the country, in order to become a better place for its citizens.
Addressing the participants of the 5th BiH Parliamentary Forum for European Integration, Wigemark said that he does not have to stress the EU's readiness to support BiH's efforts to meet the conditions for membership.
"After long-term and, in certain moments, difficult seven-year period, during which the BiH residual activities in relation to a number of its neighbors, I want to emphasize that, at least from an EU perspective, the situation in the country improved the last year", Wigemark points out.
He said that BiH institutions and political representatives from 14 political parties take over the obligation to carry out serious reforms and all other efforts on the path to EU. This, he said, was formalized in February this year with the written declaration.
Wigemark in his address recalled that the Reform agenda was already adopted by the BiH Council of Ministers and entity governments. Head of EU Delegation stressed that implementation of this Agenda begun and that it caused some controversy and contentious issues but, as he said, reached a certain momentum.
"I think that this momentum should not be just maintained on this level, but also intensified", the EU Special Representative went on.
According to Wigemark, EU and international financial institutions are ready to provide financial assistance in the amount of almost one billion Euros in the next three years and about half as that for investments. These funds, he said, should encourage both private investment and generally stimulate the BiH economy and create new opportunities and jobs for all citizens.
Wigemark said that BiH should submit a credible application for EU membership in the foreseeable future.
"First of all, we as the EU want to see the so-called "meaningful progress" in the implementation of the Reform agenda. After that, it is necessary to make progress in adapting the trade part of the Stabilization and Association Agreement. The third condition is the functional mechanism of attitudes regarding the EU. Therefore, agreement on such a mechanism is necessary", Wigemark stressed.
Wigemark, as he said, believes that the Report on the BiH progress in this year, which will be published in a few weeks, will be better than any other before that.