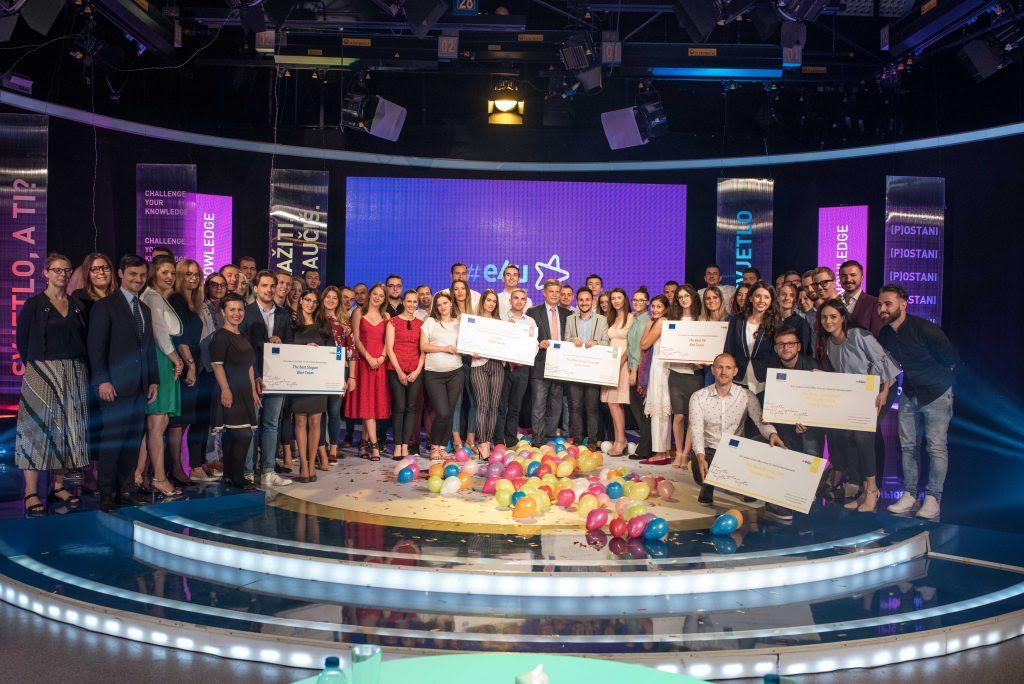 The best student campaign on the subject of socio-economic reforms in Bosnia and Herzegovina, designed as part of the E4U project under the motto "Lights On", funded and implemented by the EU Special Representative Office in BiH for the second year in a row, was awarded at a ceremony in the capital, Sarajevo.
During the past six months, students from 14 public faculties have been working together, divided into red, pink, yellow, blue, orange, purple and green teams.
"Together with their academic mentors and project experts, they conducted seven campaigns focusing on challenges young people face in BiH, through which they gave their own ideas for potential solutions", the press release that the EU Delegation to BiH issued, read.
Out of seven campaigns, a three-member jury led by Amra Bakšić-Čamo selected the "ConnectED" one as the best of all. The campaign was implemented by students of the Economics Faculty of Banja Luka and Law Faculty of Tuzla, with the aim to encourage young people to be creative and use the knowledge gained through coming up-with-solutions-to-problems-in-the-private-sector strategy "games", especially with regard to the gap between students and employers.
"Someone had to be a winner, even though – in my personal opinion – you are all winners", the head of the EU Delegation to BiH and EU Special Representative, Lars-Gunnar Wigemark highlighted while addressing the students at the award ceremony. "Students from BiH have shown again this year that they are able to come up with good ideas to resolve problems they are faced with. They obviously can and know the way forward for BiH, and they certainly can be creators of the changes which will move this country forward on its EU integration path. BiH can be proud of its youth that are growing up in this country", Wigemark added.
He added that the winning team has been awarded with a study trip to EU cities and will have the opportunity to present their campaign at the EU institutions in Brussels.
Throughout all seven campaigns, students stressed the need for better education, easier access to the labour market, more opportunities for volunteering and professional traineeships. They also underlined the important role young people in Bosnia and Herzegovina play in creative positive change, including through using their vote at the upcoming elections.
In addition to this award, the jury also declared winners, in the following categories: best slogan, best visual concept, best PR during the campaign, best production and the best campaign as selected by their peers…. / IBNA