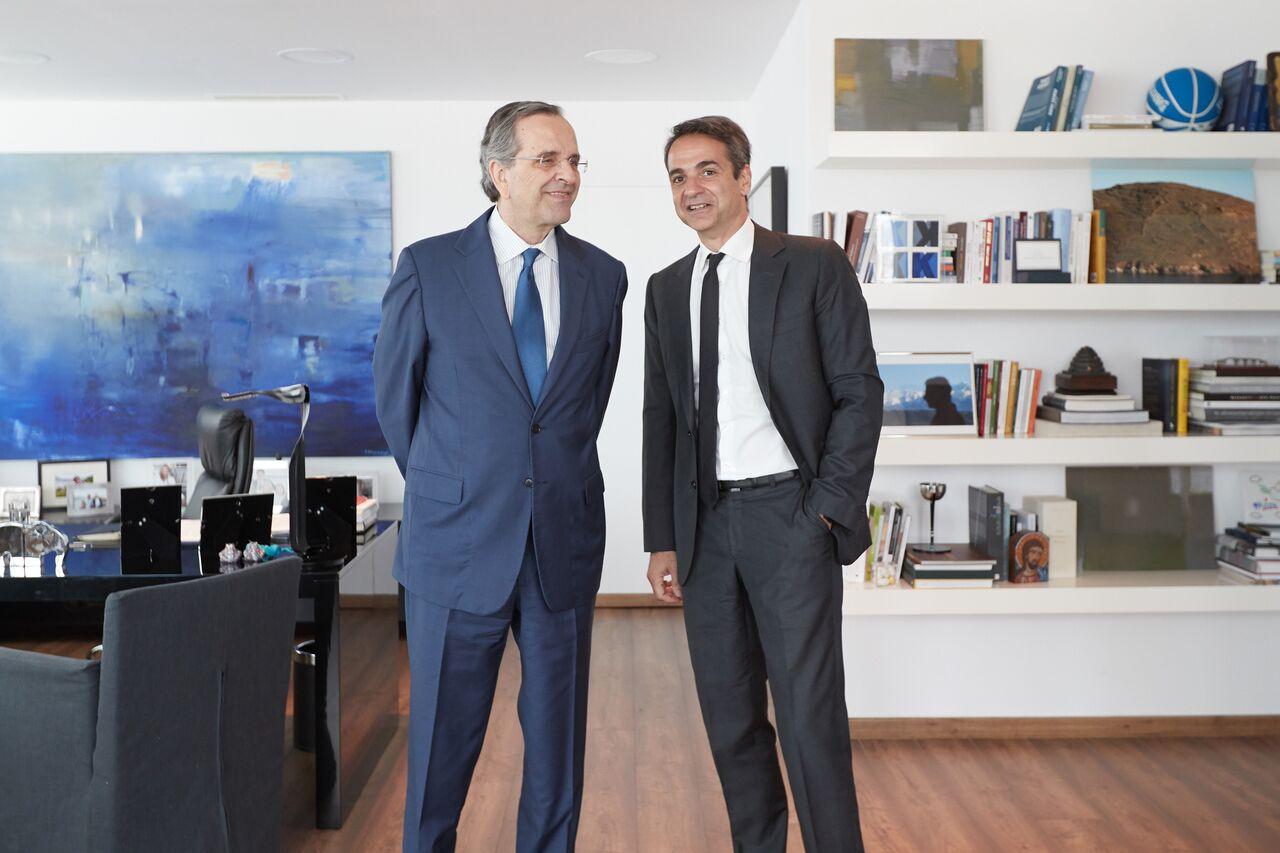 Even before New Democracy's election victory it was assumed that, in the event that Kyriakos Mitsotakis was elected prime minister, he would soon have to face the Prespa Agreement.
When Alexis Tsipras's government voted for the Agreement and changed the name of Greece's northern neighbor to "North Macedonia", New Democracy strongly opposed it. Its executives have spoken in the past of a "shameful", "harmful" and even "traitorous" deal, taking part in rallies with a strong nationalist frame. In fact, the government at the time accused New Democracy of providing a platform for individuals from the far-right, who had threatened and assaulted some of SYRIZA's MPs.
New Democracy's takeover of the government confirmed the shift to realism, with top ministers talking about the need to for North Macedonia to respect the Prespa Agreement, while inviting their counterparts to Greece. It is noted that Kyriakos Mitsotakis, during his speech at TIF, refrained from mentioning the Agreement; in an absolute contradiction to last year's appearance, when he had highlighted New Democracy's strong resistance against it.
The Antonis Samaras factor
The change of course by Kyriakos Mitsotakis and his government has led to the first strong intra-party reactions. Most notable is the case of former Prime Minister Antonis Samaras, who had informally taken on to "lead" the battle against the Prespa Agreement during the previous period.
Antonis, Samaras who is considered the leader of New Democracy's extreme conservative branch, according to sources is intensely annoyed by the leadership's attitude. Margaritis Schinas assuming the Commission's vice presidency intensified the antagonism. Antonis Samaras, according to reports that haven't been denied yet, sought to be nominated as a commissioner. This, however, did not happen.
New Democracy's official take, through the party's government spokesman was that it would be disingenuous for a former prime minister to be given the position of a commissioner rather than that of vice president. Therefore, we decided on Margaritis Schinas, the former spokesman for Jean Claude Juncker. But in the end, Greece was given the vice presidency, not just the commissioner position.
"We were after a productive outpost, but along the way we were given the opportunity to have the vice-presidency as well as a branch of portfolios, and we grabbed it", the government spokesman stated, responding to why Mr. Samaras was not finally proposed. Indeed, Mr. Petsas also referred to the fact that even former Italian Prime Minister Paolo Gentiloni did not become vice-president, stressing that it showed how erratic the issue was when it came to shaping the portfolios.
In Brussels, of course, it is an open secret that Antonis Samaras was rejected because of his stance regarding the Prespa Agreement. In contrast to Margaritis Schinas, who on one hand enjoys the full confidence of Brussels and on the other hand endorsed the Agreement, that is to say, he supported the Commission.
In Athens, the focus is now on the position the former Prime Minister will keep against Kyriakos Mitsotakis. Sources say he will ask to be nominated for the Greek Presidency, with the current prime minister not even wanting to hear about it. It is certain that at the moment K. Mitsotakis is the absolute ruler of the intra-party game, especially after the solid election result. The question is whether Antonis Samaras will seek to organize an internal opposition while awaiting the prime minister's first mistakes. /ibna