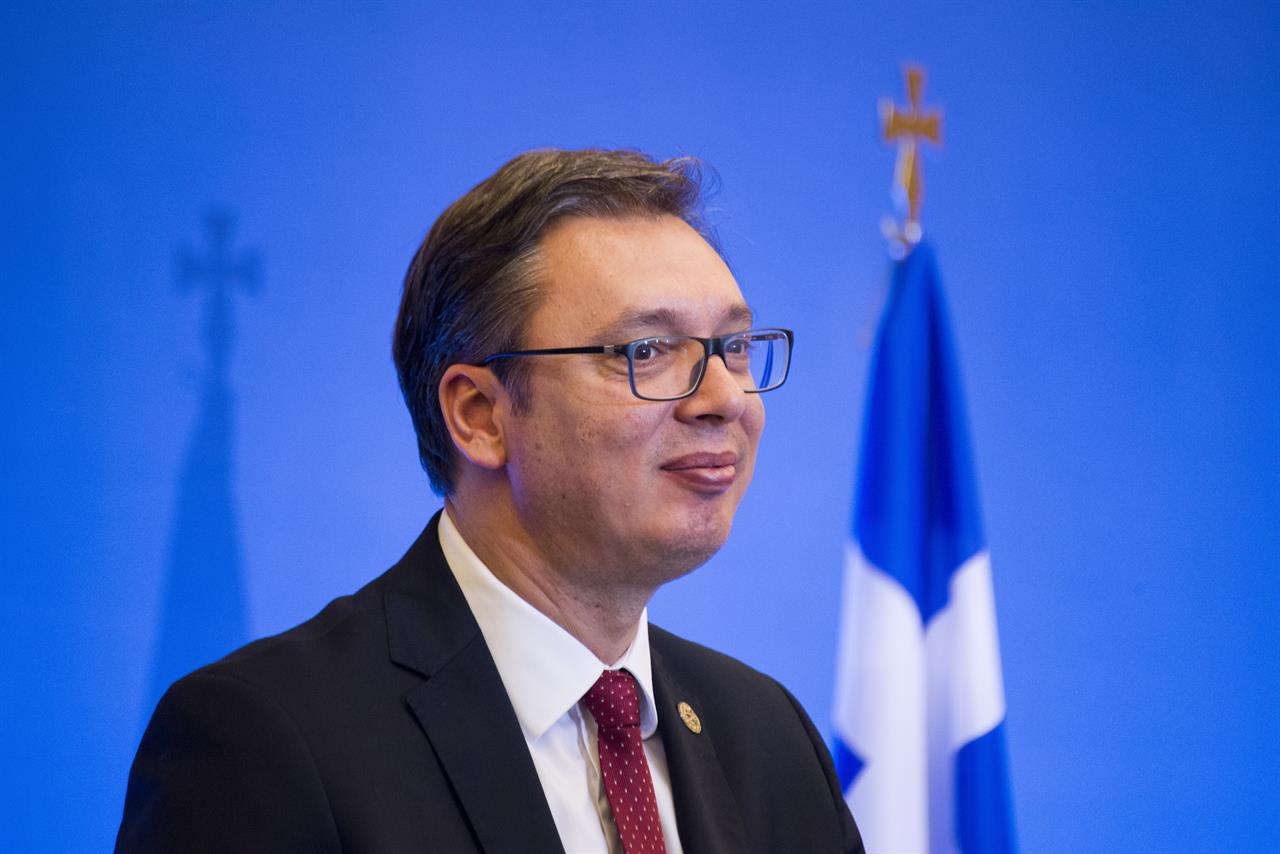 President Aleksandar Vucic met on Thursday in Thessaloniki with European Commission President Jean-Claude Juncker.
Serbia's EU integration was discussed, while Juncker "confirmed the clear and unequivocal European perspective of Serbia," said reports, citing a statement issued by the president's press office.
Vucic invited Juncker to visit Serbia during the mandate of the European Commission and stressed that since 2000, Serbia "believes in joining the European Union – but much time has passed."
"Serbia will continue to work on Euro-integration, but we want the process to have its successful ending," Vucic said.
Vucic, who led the Serbian delegation at the first session of the High Council for Cooperation between Serbia and Greece, held in Thessaloniki, announced earlier that he would discuss with Juncker – and on Friday with EU Council President Donald Tusk – "the European perspective of our country" – that is, that he would repeat his request "to tell Serbia clearly what the framework for EU accession is."
"I will go to Brussels right from here, I will have a meeting and lunch with Tusk tomorrow. It is an opportunity to discuss our European affairs in an even better way," Vucic explained during a press conference following his bilateral meeting with Greek Prime Minister Alexis Tsipras.
He said that he previously conveyed this request to EU foreign policy chief Federica Mogherini, and that there was "no reason to fear anyone, since he did not ask anything that is rude, unnatural, or unpleasant."
"I asked an ordinary thing that citizens of Serbia want to know. I know, and I've already heard the explanation that it 'depends on us.' Unlikely that it depends only on us. What does, we will do. Some have been accepted to the EU, while certainly not being at a higher level in the content of the legal act of the EU than Serbia," Vucic said.
He underlined that "Serbia wants to know if there is a clear future in the EU" and added that "if they say we do, they need to convey to us the approximate deadline, too."
"Even if they say it will be in five years, they do not have to be exact down to a year. To know it is in the next five or ten, twenty years, to act accordingly and see how to build our future," Vucic emphasized.
He stressed that "we want to make our society as successful as possible, to make our economy more competitive and are doing that certainly for our citizens."
However, he pointed out that "for the sake of the political relationship, we want to know the EU's political attitude towards Serbia."
"It's a fair and human request, so I do not know why they're very surprised, as if we've asked to be taken to Mars and plant our flag there. Those of you who are more advanced can go there, we'll be watching some new Neil Armstrong on TV," said the Serbian president.
He also revealed that he was convinced there would be no concrete answer.
"I think it's okay that they hear, even if they find hundreds of those in Serbia itself who will immediately slap me with a kind of political slap," Vucic said, commenting on the criticism in the media, and adding that "the media is no better in Europe."
"It's enough to look at American and British media. I better not speak about Europe, what kinds there are there. In all that, those media are treating me the worst. I guess that's proof of democracy in Serbia, not of a problem," Vucic said, adding "this was used as an excuse for Kosovo."
"When we had a much worse situation with regard to human rights and media freedom, at the beginning of the 2012-2013 mandate, when everything was under the paw of the same ones who kept it all, everything was fine if you did something about Kosovo. If there was no progress on the issue of Kosovo, from their point of view, suddenly nothing was good," he said.
Vucic said that "such stories are always launched also when it comes to relations with Russia," adding that "these are the two issues that are crucial for them."
"Say they are crucial, do not keep us in some third thing, that we know you are not as dissatisfied with as you say, and you are using it to accomplish something from these first two things. Let's play clean," said the president.
He asked that the EU "clearly and without gloves" states its position, adding that he is doing this "to protect the interests of Serbia's citizens and to have the cleanest possible relations with the EU."
"Do not be saying, is this the question of which road we will be on. We are on that road," Vucic concluded.
"What is expected"
President Aleksandar Vucic on Thursday urged the European Union to "say clearly and openly" what is expected from Serbia regarding Kosovo, Beta is reporting.
After the meeting of the High Cooperation Council of Greece and Serbia in Thessaloniki, Vucic said that Serbia wanted to know the time frame for the country's admission into the EU after it fulfills all the conditions, because with that knowledge the people would be more motivated and reforms would be carried out more quickly and easily.
"Kosovo is hidden behind the various objections regarding Chapters 23 and 24. If everything were right regarding Kosovo, we would have been the champions when it came to human rights too. We are waiting to see what will happen regarding Kosovo, but tell us openly what it is that we have to do and by when," Vucic stated.
"We have no alternate paths, we are on the European path and it would be fair if the citizens knew when they can expect it (the membership in the Union)," Vucic said.
According to him, asking such questions did not mean that Serbia was "flirting with others," but that it sought respect and the same treatment as other countries. He added that Serbia was as ready for the EU as Bulgaria and Romania were in 2007.
The Serbian president thanked Greek Prime Minister Alexis Tsipras for support to Serbia's European journey and for not recognizing Kosovo as independent. Vucic said that he had heard and understood Tsipras' message about Greece and the EU expecting peace and stability, and that Serbia wanted to "remain the pillar of stability," develop relations with the neighbors and, in such conditions, accomplish further economic growth./IBNA
Source: B92