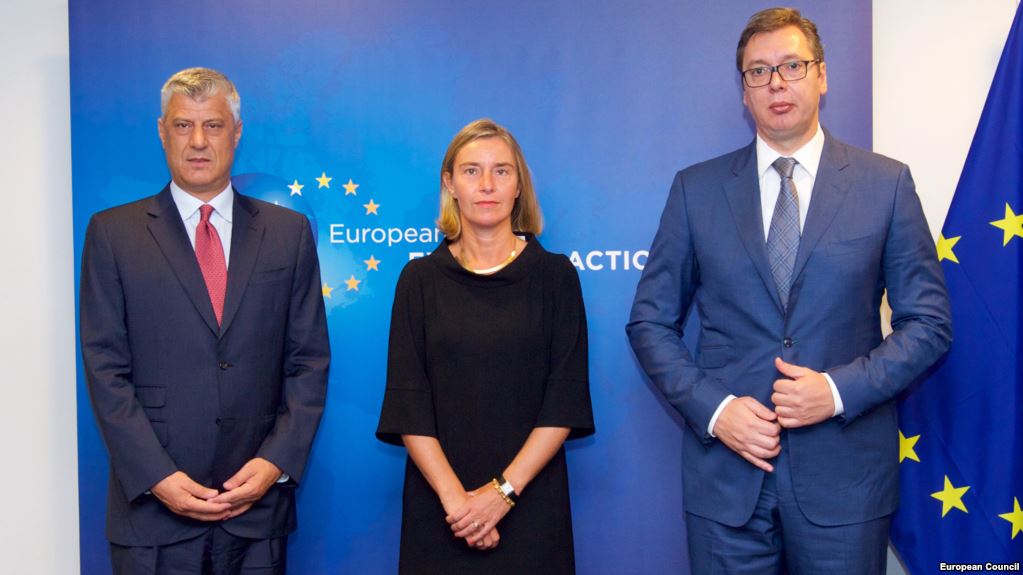 The issue of Kosovo is perhaps the only case in Europe where the principles of geotechnical activity exclusively apply. Every development is the result of violent, explosive circumstances as opposed to smooth political process.
The citizens of Kosovo and Serbia are constantly in a psychological state of constant tension and readiness for war. This has been the case since the 1980s and 1990s – the previous century – to date. When there was a political stalemate or stagnation, some political development would always be caused via an "explosion" that gave a fresh momentum to events.
This tactic was usually used by Albanians in the past, in order to achieve independence and international recognition. The hunger strike of Albanian miners at the Trepca mines in 1989 caused international interest in the Albanian request for autonomy and was the precursor of the breakup of Yugoslavia.
The "slaughter" of Albanian citizens at Rachak in 1999 by Serbian police led to the start of NATO bombing. Albanian attacks on Serbs in Kosovo in 2004 caused by a fabricated event (the drowning of a child of Albanian ethnicity for which Serbs were accused), led to the start of the UN process led by former Finnish President Martti Ahtisaari to resolve the Kosovo issue, which then resulted in the proclamation of independence in 2008.
These events, and many more, prove that nothing happens smoothly in Kosovo, without tension and violence. The concerning thing is that this tension-stirring tactic is used by the leaders of Kosovo and Serbia whenever they face a problem in imposing their political will.
Today, unfortunately, the issue of Kosovo is at an impasse again, which increases the chances of a new "explosion" that will get things moving. Since talks between Belgrade and Pristina under the auspices of the European Union have reached a "dead end", tensions and crises have been building up, creating an explosive atmosphere.
Not a single day has passed without an announcement or press release issued by Serbian President Aleksandar Vucic to warn of the threat Kosovo's security forces are to the Serb population. Even Hashim Thaci's sailing in Lake Gazivode in northern Kosovo was used as a pretext to put Serbia's armed forces in a state of red alert.
Recently, the Kosovo government made the irrational decision to impose tariffs of 100% on imports of Serbian products, in what was seen as an effort to destroy the Serbian population.
Government officials in Serbia and most media outlets present the event as a humanitarian disaster, talking of hunger, drug shortages, lack of oxygen tanks at hospitals and baby food…! Nobody mentions that hospitals, pharmacies and shops in the Serbian regions of northern Kosovo can purchase goods from the South and not exclusively Serbia.
Maintaining tension appears to be serving crucial political issues concerning the definitive resolution of the Kosovo issue. The notion of "delimitation" or "cross-border correction" put forth by presidents Aleksandar Vucic and Hashim Thaci, and which in essence is an exchange of territories, is rejected by societies in both countries.
A previously tried-and-tested way to sway public opinion is to create the impression that if no solution is found, tensions, conflicts, and perhaps warfare, will emerge. People on both sides are tired of constant uncertainty and longer have the will to endure another war. Thus, a compromise solution, though painful for both peoples, seems better than perpetual instability and a constant threat of war.
Tension seems to serve the Serbian and Kosovo leaderships, while many analysts believe that there is an agreement to preserve the tension with the aim of imposing an exchange of territories on the peoples of both countries. Former Serbian Foreign Minister Vuk Jeremic even claims that on November 4, presidents Vucic and Thaci met in Rome where they agreed to cause an event, in order to overturn Kosovo's and Serbia's negative public opinion on the land exchange proposal.
Citing diplomatic sources in an EU member-state, Jeremic said in a press conference that during the Vucic-Thaci meeting in Rome, the two leaders agreed to increase tariffs for Serbian products, in order to spark the crisis. The Serbian Foreign Minister, who was also chair of the UN National Assembly, believes that the agreed tension in Serbia-Kosovo relations is under control for now, but warned that such tensions can occasionally spiral out of control and then developments can be unpredictable./IBNA