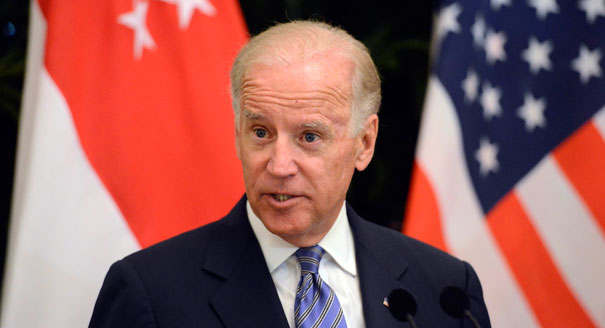 By Daniel Stroe – Bucharest
The US administration yesterday confirmed Vice-President Joe Biden will arrive in Romania on 20 May, hours after the Romanian President Traian Basescu admitted he had invited the American official on an official visit to Bucharest, but refused to reveal the exact date pending an official announcement from Washington.
"In Bucharest, the Vice-President will meet with Romanian President Basescu and Prime Minister Ponta.  He will also deliver remarks to Romanian civil society and youth leaders, and will meet with American and Romanian troops conducting a joint capacity-building exercise. The Vice President will underscore the United States' ironclad commitment to the collective defense of NATO under Article 5, and express appreciation for Romania's contributions to regional and global security" reads the White House press release.
From Bucharest, Biden will head to Nicosia, at the invitation of Cypriot President Anastasiades, where he will meet with political leaders from the Greek Cypriot and Turkish Cypriot communities, civil society representatives, and faith leaders, it further said.
The US Vice-President will discuss with the leadership of both countries the international community's response to Russia's illegal military intervention and destabilizing actions in Ukraine.  The Vice President will also address the need to deepen economic ties, including through the Transatlantic Trade and Investment Partnership (T-TIP); to recommit to strengthening democratic institutions across the region; and to undertake a sustained and collective effort to bolster Europe's energy security, the quoted document concluded.
Basescu also confirmed US Secretary of Defense, Chuck Hagel, will travel to Romania in the next period. His confirmation came hours after the Romanian President met with CIA deputy director, Avril Heines, who also met PM Victor Ponta and heads of the national intelligence services. Heines' visit comes amid growing tensions in neighboring Ukraine. CIA director, John O'Brennan, and NATO secretary-general, Anders Fogh Rasmussen, are also expected to visit Romania, but the information is yet to be officially confirmed.
Biden's visit to Romania, the second since October 2009, comes to reassure Bucharest of the US support in the face of a more provocative Russia. Over the past days, Russia threatened Romania, through the voice of Dmitry Rogozin, deputy-PM, after authorities in Bucharest denied access to its air space of the plane carrying Rogozin back from breakaway Transnistria to Moscow. Romania deserves a tough answer, Rogozin said again last night, after Romania said next time it would scramble air fighters to prevent Rogozin's access to its air space.