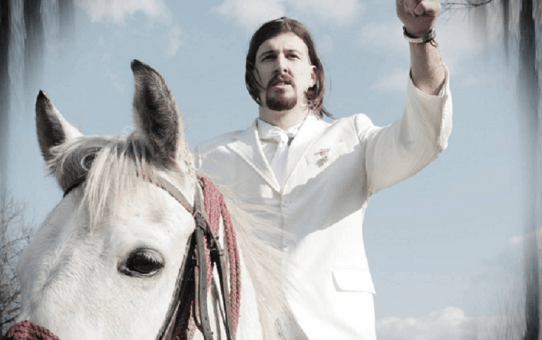 This week Serbian elections campaign became unexpectedly amusing after a local satirical politician was confirmed as a presidential nominee.  Luka Maksimovic under his alter ego "Ljubisa Preletacevic Beli" entered the political scene in Mladenovac, a Belgrade municipality, in 2016; his group surprisingly won 20 percent of the votes in local elections and instantly gained popularity. And now, mainstream political parties were vary and reluctant over his presidential nomination with some of them trying to prevent "Beli" (White) from becoming a candidate citing procedural reasons. But in the end they accepted Beli's bid.
Although analysts label his group as anti-political, Beli's supporters can affect the outcome of the elections. The part of the voters, disillusioned with "normal" candidates, enthusiastically welcomed his bid queuing for hours in lines to support him by signing his nomination.
Beli's political objectives are not very clear; he jokingly "expects" he would defeat ruling party's nominee Aleksandar Vucic in the second round. What Sasa Radulovic, leader of the party "Enough is enough" believes in, is that Beli's nomination will attract a significant part of citizens to vote and, therefore, prevent Vucic from winning in the first round on April 2. For that reason, Radulovic, Vucic's ex-minister, vigorously supported Beli, although he is also a nominee.
Other opposition groups were opposed to Beli; Democratic Party (DS) leader Dragan Sutanovac argued that Beli would take votes from Sasa Jankovic, former ombudsman supported by DS. Serbian Radical Party (SRS), which is close to Vucic, tried to dispute Beli's bid claiming he did not fulfill some procedural preconditions. Another group claimed his nomination was "shameful".
And today tabloids inclined to Vucic attacked him. The "Informer", which is regarded as Vucic's bulletin, called him "NATO candidate", alongside with Jankovic, and VukJeremic, former foreign minister who is also presidential hopeful. "Serbian Telegraf" published on its front page that Beli supports the adoption of children by homosexual couples.
Luka Maksimovic (25) Beli's alias said in an interview that both government and opposition "are afraid of him". "I put the light on serious things in an unserious way. The presidential bid is not unserious… I never dreamed I would have so much support", Beli told Kurir daily.
The part of the explanation for Beli's popularity, especially among young voters, lies in the fact that opposition failed to unite around one nominee against Vucic. Furthermore, Beli cannot be perceived as corrupt or notorious. But, according to accounts, he would also attract part of the government voters./IBNA