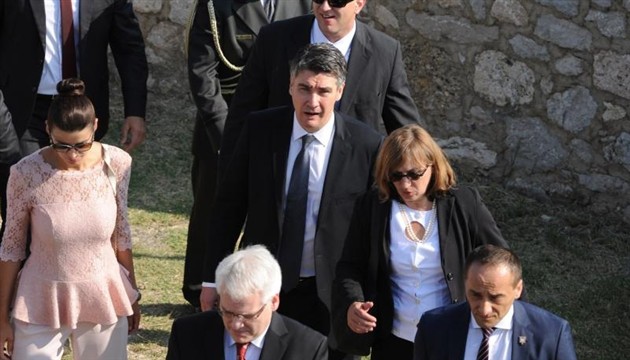 By Marija Avramovic – Zagreb
Yesterday's celebration of the 19th anniversary of the military operation "Storm" in Knin, which was attended by the highest Croatian officials, didn't go in the most solemn tone.
Because of the loud whistles and shouts of the crowd, Prime Minister's Zoran Milanovic speech almost could not be heard. Milanovic later said that Croatian democratic union (HDZ) organized the whistling during his speech in Knin on the central celebration of Victory and Homeland Thanksgiving Day and the Day of Croatian defenders.
"Gee, if someone thinks that Victory and Homeland Thanksgiving Day and the Day of Croatian defenders is a day to show such emotions and political provocation organized by the HDZ, that's fine", Milanovic said in response to reporters' questions.
HDZ President Tomislav Karamarko commenting on the Prime Minister' statement said that Milanovic has lost credibility and his words have no weight.
Croatian President Ivo Josipovic was greeted with the same treatment as the Prime Minister. When the crowd started chanting "Vukovar! Vukovar!" no one could hear what the president was saying.
Josipovic said the boos at the Day of Victory and Homeland Thanksgiving in Knin were not unexpected, but not undemocratic. He said that more important was the unity showed for the first time.
"This is the first time we all together laid a wreath, the government and the opposition, the veterans' associations and citizens. I think it's still another sign of optimism on the croatian political scene, that despite the differing assessments of individual politicians and political options, there is a ray of hope that the Croatia could handle together the most difficult issues", Josipovic said.
HDZ's candidate for president of the state Kolinda Grabar Kitarovic said that there was no need for noise and shouts in Knin during the speeches of the highest state officials, adding that that celebration was not the place for any kind of politicization.
"Whistles were not needed", Grabar Kitarovic told the reporters in Knin. "Here today we honor the homeland, all veterans who have given their lives and made ​​sacrifices for our country and this is no place for any kind of politicization, and I will excuse myself from any political issues. Because this is a day for fellowship, not a political campaign", she said.
At a press remark that she's presidential candidate, and that political issues cannot be avoided, she said that, in addition to being a candidate for President of the Republic, she was also a Croatian citizen, a Croat, a believer and a person who deeply respects the sacrifice laid by Croatian citizens so that Croatia could be free.