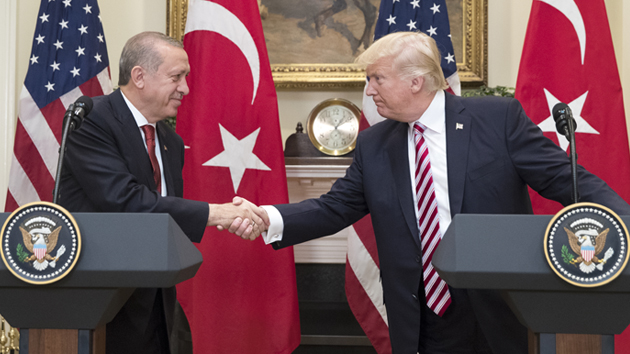 The Turkish side considers the meeting that took place yesterday between Recep Tayyip Erdogan and Donald Trumb in the White House to be a positive step.
The main topic of discussion was the future of Syria and Ankara's objections to the Washington's move to provide weapons systems to the Kurds of northern Syria, as well as the future of Imam Fethullah Gulen who lives in the US and, according to Turkey, is behind the attempted coup against the Turkish president.
President Erdogan received a warm welcomed by his US counterpart. "The American and the Turkish people have been friends and allies for many decades. Turkey was a pillar in the Cold War against Communism. And the Turkish courage in the war is legendary. I welcome President Erdogan in his visit to the White House after many years", Trump said.
It is a fact that during Obama's second term Erdogan did not visit Washington, as there were serious disagreements between the two sides on foreign policy issues in Syria, Egypt and regarding the Kurds.
However, political analysts believe that Erdogan has discussed the issue of the weapon that are to reach the Kurds of Syria. Ankara appears to be indirectly accepting the US support to the militia forces of YPG, but is seeking guarantees that these weapons will not turn against it. In addition, Turkey also claims a role in Syria after the retake of Raqqa from the Islamic State.
We support Turkey in the fight against terrorism and against terrorist organizations such as ISIS and the PKK, and we make certain that these organizations do not have a safe place", Tramp said, in a statement that satisfied Ankara as it included the Kurdish PKK. Ankara views the PKK as a terrorist organization and there are daily battles in Southeastern Turkey between the Turkish Army and PKK militants.
The meeting also attended from the Turkish side the Foreign Minister Evlut Cavusoglu, Turkish Presidency spokesperson Ibrahim Kalin, Energy Minister Berat Albayrak, Head of the MIT Hakan Fidan, and Hulusi Akar, the Chief of the General Staff of Turkey.
Erdogan clarified that it is a mistake for any country to have contacts and to support the YPG". At the same time he asked for Gulen's extradition.
According to information, at the meeting which lasted about 1.5 hours, both the Cyprus problem and Ankara's relations with Moscow were also discussed. At the same time, issues of energy and trade cooperation between the two sides were raised./IBNA