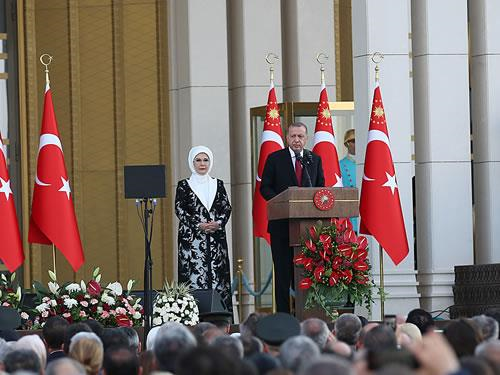 "We will further strengthen Turkey in all areas, from the defense industry to border security", Recep Tayip Erdogan said during his oath, during the ceremony for the start his new five-year mandate with extended powers.
"We will not only continue the investments we have already started and the projects promised to our nation, but we will also take on larger projects", he pointed out, emphasizing the importance of supporting the Turkish economy.
Recep Tayip Erdogan had foreseen since 2002 that the energy sector and in particular energy interventions are a good opportunity to enhance his personal presence and the interests of the ruling social class.
A typical example is the 2015 appointment of his daughter's husband to the post of Minister of Energy and Natural Resources, a post from which he served until just a few hours ago, when he was appointed Minister of Finance. Berat Albayrak, former CEO of Çalık Holding, is now the new finance minister.
In his current course, both Recep Tayyip Erdogan's and Berat Albayrak's names were involved in the spill of e-mails from Wikileaks, cases such as the illegal export of oil from Northern Iraq in cooperation with the Islamic State or even the US arrest of Reza Zarrab on the charge of gold smuggling and the violation of US sanctions against Iran, and all this while Turkish companies appear to have had "silent" agreements with Masoud Barzani in northern Iraq to exploit oil reserves.
Turkey, on the other hand, appears overactive in concluding energy agreements with a number of countries, such as Russia, Azerbaijan, Iran, Iraq and Iraqi Kurdistan, or Central Asian countries, and declares its presence to all occasions in the Eastern Mediterranean and the Middle East.
The under military occupation territories of Cyprus and the head of the Turkish Cypriot community, Mustafa Akinci, either he wants it or not, are totally dependent on Turkey, especially in the energy sector and with regard to the claims that have to do with the exploitation of the gas reserves in the Eastern Mediterranean.
Meanwhile, Sunat Atun and Serdar Denktas, heads of the Economy and Energy and Finance Ministries, seem to promote the operation of specific energy companies, regardless of economic outcomes, such as the Cyprus Turkish Electricity Corporation (Kıbrıs Türk Elektrik Kurumu) or companies active in Renewable Energy Sources.
In any case, as evidenced, the companies operating in the Occupied Areas, such as AKSA Enerji (owned by Kazancı Holding), Kalyon Group and Altınbaş Holding, seem to have particularly close ties with Recep Tayip Erdogan himself.
With all fronts open, with the EU and the US, Syria, Iran and, of course, with developments in the Eastern Mediterranean "running", what can one expect? In an interview with the EURACTIV network, Greek Foreign Minister Nikos Kotzias expressed the hope that Recep Tayip Erdogan, after his re-election, would be less "nervous"…
The Turkish economy is under pressure and this has an impact on energy. The beginning was made by the Bereket Enerji Group, which is in the process of selling the power plants in Turkey, in order to cope with the pressure. These are the Göktaş I and Göktaş II hydroelectric power plants, in order to cut the losses. According to the Bloomberg news agency, the Bereket Enerji group is the third one that seeks to restructure its debts./IBNA