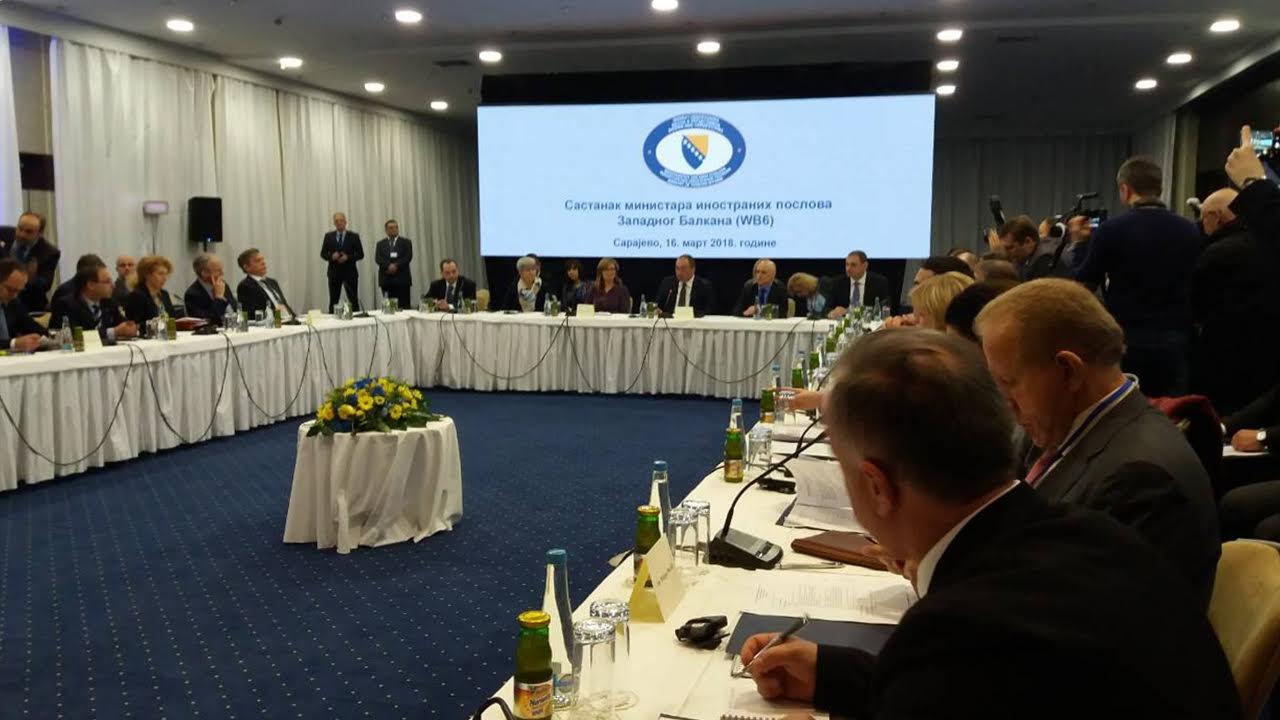 Foreign ministers of the Western Balkan countries confirmed on Friday, in Sarajevo, their commitment to stronger regional co-operation and stressed the importance of the new EU strategy for the region, which is focused on the fight against corruption and organised crime, and the rule of law.
Ministers expressed the belief that meetings in this format, as agreed during the meeting in Skopje a year ago, can strengthen and enhance co-operation and mutual understanding, and will enable the region to have the same stance on issues of common interest. BiH Minister of Foreign Affairs, Igor Crnadak, said at the press conference that he appreciates the continued engagement of the EU in supporting stability and strengthening political and economic ties within the states of the region.
He said that relations between countries were discussed and added that they reached the conclusion that it is necessary to continue building the best relations, but with more projects which will further benefit the citizens.
"We also discussed the preparation for the Western Balkan and EU summit, which will be held in May, in Sofia, and the next meeting within the Berlin Process will be held in July in London," Crnadak said.
Speaking about the Berlin process, he stressed that the ministers agreed that it was necessary to focus on concrete projects, infrastructure linking, strengthening of the economy and stronger support to entrepreneurship.
Crnadak added that participants also discussed very expensive roaming services in the Balkans, as well as a new EU strategy on the Western Balkans, which provided further impetus to the region and confirmed the EU's commitment to enlargement.
"For BiH, there are six initiatives that the EU has emphasised, with a focus on combating corruption, organised crime and the rule of law," Crnadak said.
Director General of the European Commission's Directorate for Neighbourhood Policy and Enlargement Negotiations, Christian Danielsson, said that the meeting in Sarajevo was held at an important moment when the issues relating to the Western Balkans are at the very top of the EU agenda.
"The Strategy is very clear because it expresses a clear perspective for the entire Western Balkans that should enter in the EU in future. The rules for joining the EU are clear and equal for all, and the strategy clearly indicates what needs to be done to make progress in these endeavours," said Denielson.
The meeting in Sarajevo was attended by the Minister of Foreign Affairs of the Republic of Bulgaria Ekatarina Zaharieva, Chief Executive Officer of the European Commission for Neighborhood and Enlargement Negotiations Christian Danielsson, State Minister for Europe and America at the Ministry of Foreign Affairs of the United Kingdom Alan Duncan, Deputy Executive Director for Europe and Central Asia and Director for Western Europe, the Western Balkans and Turkey in the European External Action Service (EEAS), Angelina Eichhorst and the Secretary General of the Regional Cooperation Council Goran Svilanović, the Serbian Ivica Dačić, Behgjet Pacolli of Kosovo, Coordinator for the organization of the Summit on the Western Balkans in London, Ambassador Andrew Paige and Executive Director of the Western Balkans Fund Gjergj Murra, the Albanian FM, Ditmir Bushati, Montenegro's Foreign minister Srdan Darmanović and last but not least, Nikola Dimitrov of fYROMacedonia…./ IBNA