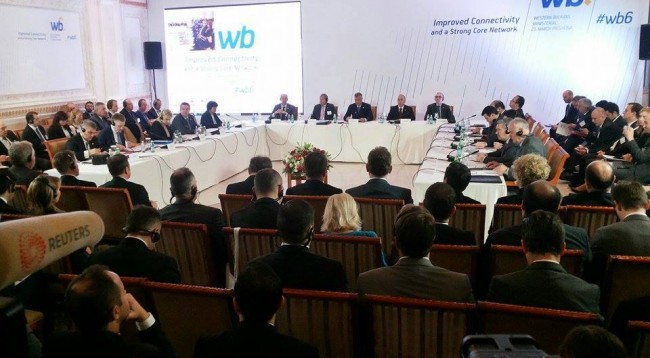 IBNA Special Report
Pristina, March 25, 2015/Independent Balkan News Agency
By Elton Tota
The "Western Balkan 6" conference started today in Pristina with the participation of all Western Balkan countries and senior officials of the European Union.
During this summit, the countries of the region are expected to agree on several infrastructural projects. These documents will be made official by the EU, which finances infrastructural projects.
At the start of this conference, the Foreign Minister of Kosovo, Hashim Thaci said that this meeting is a continuation of the Berlin Summit, in which Germany encouraged projects which aim at bringing Balkan countries closer to each other and closer to the EU.
"As of today, the European Union is a successful project, which has started with a project for cooperation in the domain of infrastructure and energy", Thaci said.
According to deputy PM Thaci, who is chairing the joint meeting of the 12 ministers of the region,  the West Balkan has started with modest steps in order to intensify economic cooperation, but with great ambitions to live like other nations of Europe, in cooperation and tolerance.
"For Kosovo, the equal participation in this conference is a strong signal that no stable Balkan and no integration of the Balkan in the EU can be imagined without Kosovo", declared Thaci, adding that Kosovo's place in the European family of democratic countries is guaranteed.
Deputy PM Thaci declared that Kosovo will be a leader of the consolidation of peace in the Balkan and of the opening of a new page of reconciliation in the West Balkan.
"This conference today in Pristina is a step further for us in meeting this important goal for our future and for the future of our children", he said.
Meanwhile, the "Western Balkans 6" ministerial conference, which has gathered in Pristina foreign ministers and ministers of infrastructure from the six countries of the region, has been organized in the same format as all EU meetings are organized.
"We will try to enter agreements that will bring investments worth billions of Euros and new jobs. The ministerial in Pristina is the continuation of the Berlin process initiated by chancellor Merkel and it makes Kosovo an epicenter of regional cooperation", Thaci declared.
Deputy Foreign Minister, Petrit Selimi said that this is a historical meeting, because the six countries of the region will agree on the Balkan transport network.
"It's a historical conference, because we will agree on a Balkan transport network, where the EU will invest. What's also important is that the Serb Foreign minister, Ivica Dacic, comes as a Foreign minister in an official diplomatic capacity. The conference, like the one last year in Belgrade, is being held according to the Gymnih formula recommended by the EU", Selimi declared.
The list of countries participating in the "Western Balkans 6"
The government summit "Balkans 6" brings in Pristina 12 foreign ministers and 6 transport ministers of the Balkan countries and the EU commissioner for enlargement, Johannes Hahn.
From Albania:
Ditmir Bushati-Minister of Foreign Affairs
Edmond Haxhinasto-Minister of Transport and Infrastructure
From Serbia:
Ivica Dacic-Deputy PM and Foreign Minister
Zorana Mihajlovic-Deputy PM and Minister of Construction, Transport and Telecommunication
From Montenegro:
Igor Luksic-Deputy PM and Foreign Minister
Ivan Brajovic-Minister of Transport
From Bosnia and Herzegovina:
Osman Topcagic-Head of the EU Department for the EU at the Foreign Ministry
Izret Bajrambashic-Deputy Minister of Communication and Transport
From FYROM
Nikola Poposki-Deputy PM and Foreign Minister
Mile Janakieski-Minister of Transport and Telecommunication
From Kosovo
Hashim Thaci-Deputy PM and Interior Minister
Lutfi Zharku-Minister of Infrastructure
Kosovo at the focus of European media
Today, Kosovo will be at the focus of Balkan and European media. More than 100 media from the region and the countries of the EU have expressed their interest for this ministerial conference. /ibna/