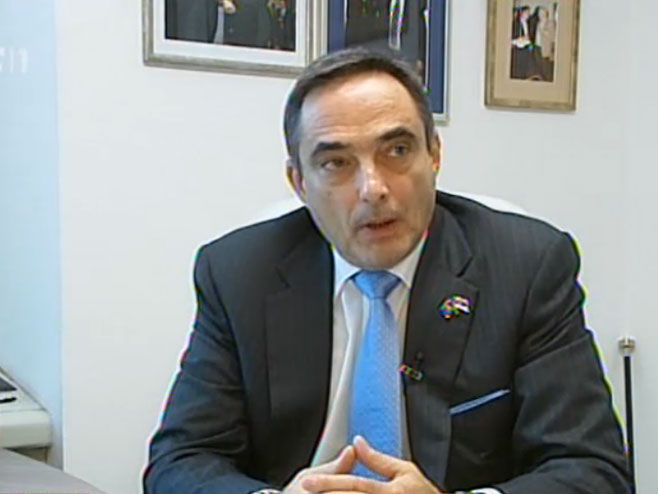 Bucharest, July 24, 2015/ Independent Balkan News Agency
By Milos Mitrovic
The visit of Bosnian leaders to Belgrade as early as ten days after the attack against Serbian Prime Minister in Srebrenica was "something fantastic", Jovan Kovacic, president of Serbian branch of the Trilateral Commission said today.
On Wednesday the Bosnian Presidency members paid a visit to Belgrade.
However, Kovacic who is also head of East West Bridge organization, told Tanjug news agency that situation in the Balkans could escalate at any time. In his words, Serbian PM Aleksandar Vucic's visit to Srebrenica represented avoiding the edge of the abyss and moving towards the direction that is acceptable for most of the peoples who live in the Balkans.
Kovacic elaborated that the assault against Vucic at Srebrenica commemoration could have ended with fatal consequences for Serbian PM by inflaming a new conflict in the region as a result. He noticed that "one bullet" was enough to trigger war in the Balkans.
The Trilateral Commission official praised Vucic for his behavior after the incident.
Kovacic recalled that Vucic was insisting on reconciliation.
"In modern Serbian history this was the first opportunity we did not miss. And we were unique in the world because we never miss an opportunity to miss on an opportunity", Kovacic said.
Bad economic situation makes fertile ground for the nationalism, while the "right solution" for the Balkans could be "circles in the world' that have funds on their disposal; initiatives such as the so called Berlin process could be helpful, Kovacic underlined alluding to German and EU's assistance to the Western Balkans countries, which started a year ago.
The position of Serbia at the international stage has been significantly improved in the last 12 months despite the unfavorable situation in the world caused by the conflict among the "great powers", Kovacic underlined, adding that these countries like provoking "small wars" in third countries' territories in such situations.
Until several years Serbia was a "pawn" but this is not the case anymore, he said. "The West has finally started to think in a different way – let's not offend Serbia", Kovacic concluded.
He gave an example: most of the countries invited to join celebration and military parade in Croatia on August 5 have cancelled their attendance due to the "quiet and elegant Serbian diplomacy".
Namely, Croatia would mark 20 years of the military operation "Storm" – which Zagreb considers as national liberation day, while Belgrade condemns it as "celebrating the deportation of Serbs from Croatia". Earlier this month Serbian Foreign Minister Ivica Dacic had said that Belgrade would regard attendance of the foreign armies at the parade as an "anti-Serb" approach.
In Kovacic's opinion, Serbia has become a reliable partner of the international community under the current government, which was not the case in previous years.