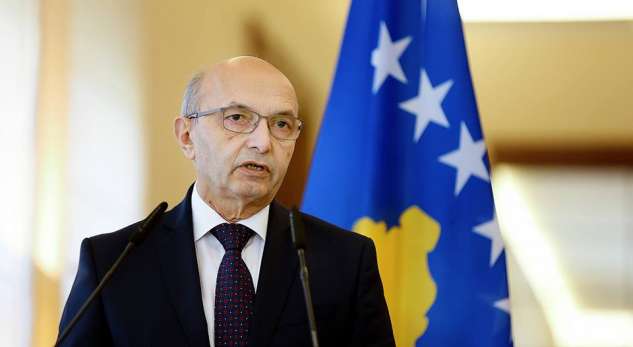 Pristina, April 1, 2015/Independent Balkan News Agency
By Elton Tota
Kosovo's PM, Isa Mustafa declared during today's meeting of the government, which approved the report for the first 100 days in office of the new government, that the government is working for a Kosovo where there's a rule of law, where there's economic development and where human rights are respected.
"Through the implementation of this program, we're aiming at building a democratic Kosovo, a Kosovo where the rule of law prevails, where human rights are respected, where there's a government that promotes economic development, social welfare and market economy", declared Mustafa during the government meeting.
The PM also mentioned the difficulties that the government has faced at the start of its term in office.
"We must underline that we have entered office in a very serious situation, which saw the strikes of teachers, doctors and nurses and judges. We had problems with the budget, on which we had to make changes. We had problems with the protests organized by the opposition in several cities of Kosovo and Pristina and we also had the large number of people leaving the country during the first two months of the year", Mustafa declared.
He said that in spite of these problems and difficulties, the government managed to deliver the objectives projected for the first quarter.
"During the first 100 days, we managed to promote a vision of an independent state for Kosovo, as a democratic state and a state which must be integrated in the Euro Atlantic structures and a state which guarantees the independence of the legislative system, judicial system and the executive system, in order for these three powers to do their job", declared PM Mustafa.
Mustafa also mentioned the reforms conducted in the economic aspect.
"In the domain of economy, we have made essential changes in the taxation system and we believe that these changes will yield results in the economic development. We have made changes in the VAT, corporation tax and income tax. We have relieved from taxes the import of machineries that are used for production and investments in production. We have also made changes in administrative guidelines for fiscal electronic equipment to stimulate businesses in being equipped with them and consumers to benefit a VAT refund", Mustafa said.
PM Mustafa also talked about the creation of the Kosovo Armed Forces.
Mustafa warned that the bill for the creation of Kosovo Armed Forces is ready and is only waiting to be voted in parliament.
As far as the return of the Serb List in institutions is concerned, Mustafa said that during the week, he has held three meetings with Serb representatives, but he still cannot understand the delay in their return. /ibna/