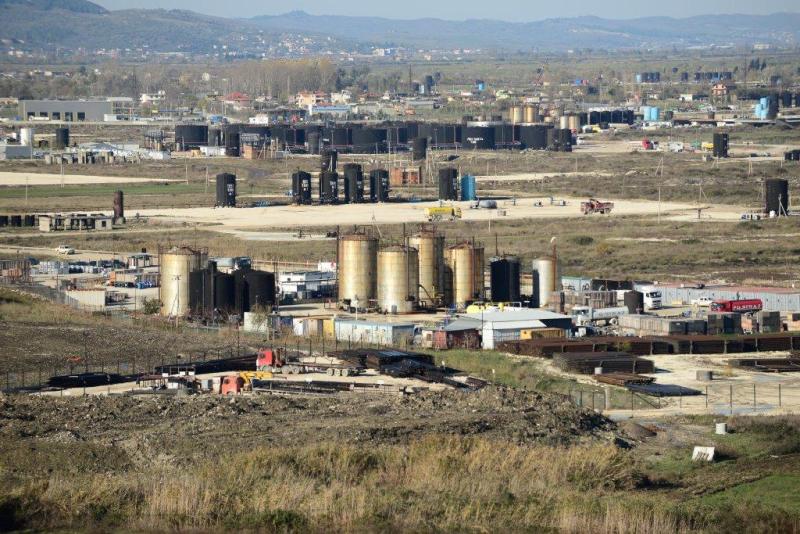 Tirana, April 9, 2014/Independent Balkan News Agency
A program of new drillings is being implemented in the oil field of Patos Marinza in Albania. During the first three months of this year, 32 new wells have been drilled by the company that controls this area, Bankers Petroleum (photo). Omer Dashi, representative of this company, told IBNA that 23 out of 32 new wells have been completed and have been made operational. Meanwhile, 9 others are expected to be made operational in the months to come.
Bankers aims develop oil fields not only in Patos-Marinza, but also in Kucova. The period from January to March 2014 saw the production of 19,991 barrels a day or 3.2% more compared to the fourth quarter of 2013, which saw an average production of 19,911 barrels a day.
Oil sales during the first quarter of 2014 were on average 18,435 a day, 6.5% less than the fourth quarter of 2013 when the sales figure was 19,710 barrels a day. Crude oil inventory on March 31, 2014 was 444,000 barrels, or 133,000 barrels more than 311,000 barrels on December 31, 2013.
The average price of sale for the oil produced in Patos-Marinza for the first quarter of the year was $87.35 per barrel compared to $85.71 per barrel in the third quarter of 2013.
Bankers is expecting to sign a new agreement with the government
Fiscal changes made by  the Albanian government for 2014 and in the fiscal legislation in the hydrocarbon sector have caused concerns for the Canadian company. It says that within the next three months, it's expecting to finalize an official agreement with the government.
"The company has been assured by the Government that it will be offered a solution for the compensation of financial effects which will be caused by the fiscal changes", says Mr. Dashi.
The president and chief executive of Bankers Petroleum, David French, says that the company continues its work with the assurances given by the government that it will find mechanisms of compensation.
"The company has been encouraged by the progress that has been made and hopes to achieve an official agreement with the Albanian government in order to find a mechanism to compensate for the financial effects that will be caused by the excise tax and the new changes as a result of the new 2014 fiscal package. With these assurances given by the Albanian government, Bankers continues to apply its program of capital investments for 2014 and is predicts that these fiscal changes will have minimum effect in its work", says David French. /ibna/