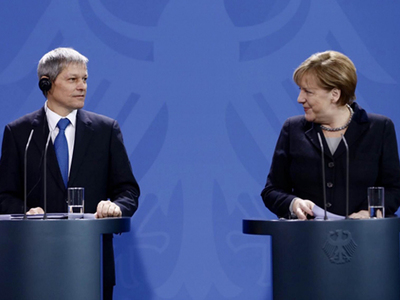 Bucharest, January 8, 2016/ Independent Balkan News Agency
By Irina Stoica
Improving Romania's economic relationship with Germany is conditioned by new progress in the country's judiciary system and by new victories on the battlefield against corruption. It's what German Chancellor Angela Merkel basically told Romanian Prime Minister Dacian Ciolos during his visit in Berlin today.
"This spring we will have several activities to boost the economic relations. There is a condition: the legal system, the judiciary system must be further improved, and corruption must be fought against. There has been significant success lately, Mr. Ciolos's government is taking this task very seriously and this is a very important condition", Angela Merkel said during a joint press conference with her Romanian counterpart.
Germany is Romania's first economic partner, with 20% percent of Romania's trade, meaning over 20 billion EUR per year. And the Government understands that foreign investors, German ones included, want to see some developments that would create a friendlier business climate in Romania.
"We'll focus on reforming the administration and making it more efficient, on long-term economic development and on the maximum possible predictability in terms of legislation, taxes and finances", Romanian Prime Minister said.
In order to stimulate bilateral economic cooperation, Dacian Ciolos will visit several German lands this spring.