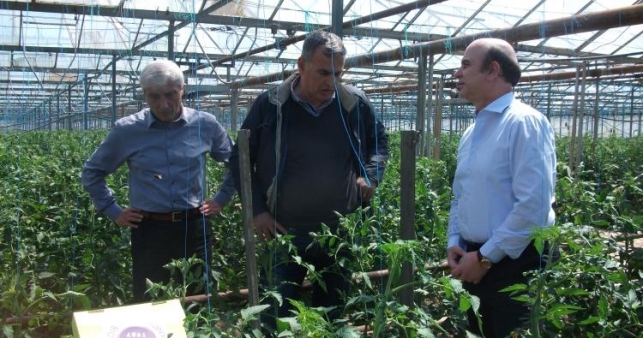 IBNA Special Report
Tirana, February 24, 2015/Independent Balkan News Agency
By Edison Kurani
European Institute of Statistics Eurostat, says that there's a growing weight of agriculture in the Albanian economy. Estimates indicate that this weight has grown to 22,2% of GDP (Gross Domestic Product) as opposed to 19% in 2008.
Eurostat also says that the crisis has contracted growth rates in almost every branch of the Albanian economy, except agriculture.
Based on the report, this is the sector which has resisted better than the others. The growth shows that this sector coped with the crisis better than other branches, thus becoming a shield for national economy in its hardest years-Eurostat's report suggests.
These optimistic data come at a time when in the past ten years, the weight of agriculture on the GDP has seen a fall, but once the economy was hit by the crisis, this tendency was reversed.
According to Eurostat, from 19,4% in 2008, a year ago, the weight of agriculture in the Albanian economy went up to 22,2%.
Can agriculture become the most important sector?
Historically, Albania has been a country driven by agriculture and farming. During the years of communist regime, futile efforts were made to reverse this ratio. Many plants and factories were opened and heavy industry was largely expanded, mainly through Chinese, Russian, German and other investments.
Although they employed many people, these plants were not efficient. They were completely destroyed after the overthrow of the communist regime. This destruction was associated with a new national drama, the abandonment of agriculture and farming.     Albanians living in rural areas and who had suffered poverty for many decades, left their abodes. A part of them went to the capital and cities around, while the rest moved abroad, mainly to Greece and Italy.
Under these circumstances, population in villages reduced significantly. If in 1989 around 65% of the population lived in villages, this percentage was reversed in the 90's, where 65% live in urban areas and 35% live in rural areas.
This also led to stagnation in the agricultural sector.
But in the recent years, there's been a revival of farms and agricultural production. It seems that peasants have realized that they can make profits through their produces and also secure basic food products for their families.
Agriculture expert, Ndoc Fasllia, former vice minister of Agriculture and Food, says that there's a revival of agriculture and farming and that capacities are very high.
"If today, the contribution of agriculture is 2,5 billion USD, rest assured that the potentials of this sector to secure economic growth, growth of revenues and living standards, especially in rural areas, is 3 to 4 times higher", says Fasllia.
The other expert, Alban Zusi, current vice minister of Agriculture, says that capacities are very big. "We have hundreds of thousands of unexploited hectares of land", he says.
Meanwhile he points out the low performance in production and underlines the improvement of agricultural cultures cultivated by farmers. "We have low production performance. The improvement of cultures, changes in the structure of cultivation is a third source of the potentials that this sector, which is unexploited, has", Zusi says.
In fact, international reports indicate that Albanian farmers contribute very little to the economy of the country, compared to neighboring countries and Europe in general.
Expert Zusi says that the left wing government has a new concept on agricultural production. "We're trying to turn farmers from people who try to secure the survival of their families, to business people", he says.
Panariti: Support for agricultural cooperatives
Minister of Agriculture, Rural Developments and Administration of Waters, Edmond Panariti, says that agricultural cooperatives must be supported, because they maximize performance and reduce costs.
If we go back in time, the cooperatives established by the communist system managed to produce up to 110 quintals of wheat per hectare.
Today, the average production is several times lower. However, the system of that time deprived peasants from the land, by causing shortages of produces in their families.
Minister Panariti says that in contrast to the bad experience of the past, the need of cooperation, unification is associated with a totally different environment.
"Now we're talking about a voluntary joining of forces by farmers, in order to maximize performances and profits, to increase competition and reduce costs. The Albanian government is determined to back this form of cooperation, in a given profile, in an agricultural produce demanded by the market, which is controllable and has a low cost. Therefore, we must expand these success models which have started to emerge in the Albanian agriculture", Mr. Panariti says. /ibna/