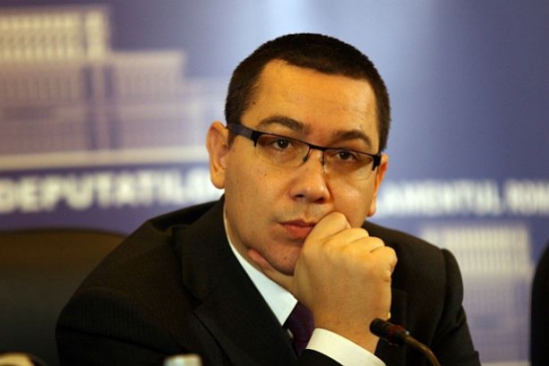 By Daniel Store – Bucharest
This week's news revolved around heads rolling under the anti-corruption prosecutors' offensive among what is widely perceived by the public as impunity-protected politicians, with the long arm of justice also knocking on the PM's door. At the same time, on a higher level, Romania courts NATO and USA for more troops in the region amid heightened tensions in Ukraine. But, in return, Washington vowed to help fight corruption in the Balkans which it says has turned into a disturbing trend across the region.
He was the man TV stations would invite over for talk-shows thanks to his talkative nature. The so-called Che Guevara from the seaside, trumpeting the socialist values, wearing paramilitary clothes, driving old style off-roads and never shrinking from displaying his macho qualities among women, Radu Mazare, four times elected mayor of Constanta was the politician who had it all, money and fame. Until a few days ago when anti-corruption prosecutors picked from a fancy restaurant in downtown Bucharest to explain the shady deals he made in a social housing contract the city hall of Constanta granted years ago.
Mazare is charged with taking a bribe of 175,000 Euros from an Israeli construction entrepreneur in order to meddle with the public tender for a social housing neighborhood in Constanta. Arrested on Tuesday, Mazare was released the next day when a judge decided he would be investigated at large, but under judiciary control. Leaving the arrest, Mazare complained he hadn't slept all night because of Rusanu's snoring. His words best described the overall picture of the massive anti-corruption campaign Romanian justice started against influential politicians. Senator Dan Radu Rusanu, former head of the Financial Surveillance Authority, was arrested in March for using his influence to favor close people in an insurance case. He has been held in arrest after trying to influence witnesses.
While siding with his political kin, PM Victor Ponta also took a false step and alleged anti-corruption prosecutors are politically maneuvered, hinting at his rival, President Traian Basescu. "They can't arrest 7.4 million people by November (when presidential elections are held)", Ponta said, referring to the number of citizens who voted for Basescu's removal in a referendum in 2012, but which was finally invalidated due to low turnout. But Ponta's name surfaced in another corruption case which concerns one of his party's influential local politicians or "local barons" as the media puts it.
Last week, Romanian anti-corruption prosecutors arrested Adrian Duicu, head of the Mehedinti County Council and an influential local politician belonging to the social-democrat ruling party. Duicu is one of the eight county council heads in the country under criminal investigation for corruption. In the same case, DNA also arrested Stefan Ponea, the county police chief who was a close aide of Duicu. Prosecutors showed that the head of the Mehedinti County Council used his influence to secure a promotion for Ponea in the Ministry of Interior. Thus, in June 2013, Duicu went to the seat of the government to handle the issue in person. PM Ponta is said to have summoned the chief of national police to take care of the matter himself, prosecutors' transcripts show. Even though Ponta dismissed any charge of influence peddling, the scandal is yet to develop and anticipates a fierce political struggle for this fall's presidential elections.
Beyond internal developments, Romania is still very wary of tensions in Ukraine, with a close eye on the turmoil in Transnistria, in neighboring Moldova. Speaking to the foreign media, Romanian foreign minister Titus Corlatean pointed out the country has concrete expectations concerning a redeployment and transfer to the east of NATO's air, naval and land military capabilities". While the US officials underlined Washington is considering relocating troops to Eastern Europe, another message was aired from the American capital.
Speaking on Thursday before the US Senate Foreign Relations Subcommittee on European Affairs, Victoria Nuland, assistant secretary of State for European and Eurasian Affairs, warned about a growing and worrying trend of corruption in Eastern Europe and the Balkans. "We are also seeing a growing league of oligarchs and corrupt politicians work together, including across national lines, to protect and help each other maintain that influence, and keep the cash flowing that feeds their preferred system. Corruption of this kind doesn't just rot democracies from the inside, it also makes them vulnerable to corrupting influences outside country who seek undue economic and political influence over state policies and decision-making. In other words, in many parts of Europe, fighting corruption needs to be a higher national priority in order to protect and defend democracy AND state sovereignty" she pointed out.
"Fighting corruption must be a more central line of effort. Over the coming year, you will see our focus on this intensify in the work we do across the Balkans, and Central and Eastern Europe, in close collaboration with the with EU, to help these countries promote clean, accountable government, a lively and free civil society, and media independence and to help governments and citizens expose and root out corruption wherever it hides" she added.
In January, Nuland came to Bucharest amid concerns then ruling social-liberal coalition sought to pass an amnesty law and amend the Penal Code that would have curbed anti-corruption efforts in a country still under EU's close surveillance for its efforts to reform the justice efforts. The measures were never passed, but Nuland's words may translate into the warning that, while the US is willing to protect Romania, it will never tolerate corruption and government's attempts to shield politicians from justice.