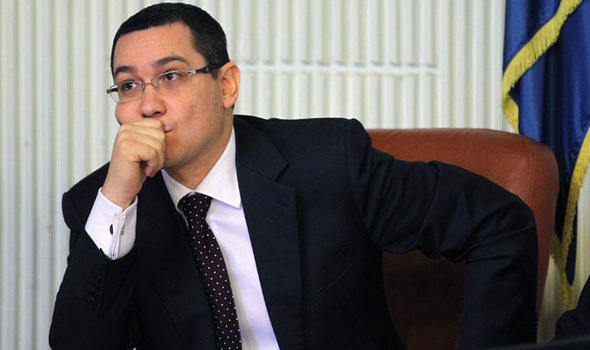 By Daniel Stroe – Bucharest
The electoral campaign in Romania has gained a new momentum and, unfortunately, a theme which will probably monopolize the debates before the presidential poll early next month at the expanse of discussions on constructive projects the country does need, after PM Victor Ponta, and the main contender in the race for the top job in the country, has been allegedly been disclosed as former agent of the Romanian foreign intelligence service SIE.
It all started early September when Basescu had warned one of the candidates in the presidential race is hiding his past and urged him to come clean. At that time, he pointed out that he would be forced to reveal the truth himself if his appeal falls on deaf ears. "Yes, because I have the obligation to do it. When we talk about the position of president of Romania, you cannot miss to inform, no one says the service should do it, because the low doesn't allow it, but the candidate has the obligation to do it. I will be able to come up with evidence about what this double button means" Basescu added.
His statements aroused a great interest in the media which quickly turned their attention to the main two contenders, PM Victor Ponta, and his rival Klaus Iohannis, German ethnic mayor of Sibiu, a city in central Romania. After some suspicions Iohannis may have worked for the German intelligence which ended up unverified, both denied having worked for a secret service, either domestic or foreign.
On Monday, a little more than a month after making the above-mentioned statements, Basescu said that it is PM Ponta he was talking about when pointing at a former undercover agent seeking to become president. "Victor Ponta has to admit that he was a SIE undercover agent between 1997 and 2001" when Ponta was a prosecutor, Basescu said last night in a TV talk show. The President said he had become suspicious in 2013 when a senator publicly asked Ponta whether he had been a secret agent and the latter refused to answer.
The prime-minister was quick to react today calling Basescu's revelations "lies and slanders". "After I graduated from the Law School, I have each time observed the laws of the country, as a magistrate, minister and I will continue to do so", Ponta said today. He accused Basescu of using state institutions for his personal interest. But it turned out Basescu asked former head of SIE, Teodor Melescanu, now a contender himself in the presidential race, if there are former agents among governmental officials, but Melescanu refused to answer the head of state, promoting Basescu to accuse Melescanu had had been hiding the truth.
The media went after Ponta and searched through his resume. According to his CV, Ponta attended several seminars in Greece, Italy, USA and Great Britain over the four years he was presumed to be serving SIE. This is one of the main aspects of the whole scandal surrounding the prime-minister: the possibility he may have spied on now allies of Romania. If so, Ponta, who already has a crippled image abroad after his erratic political behavior in 2012 when his ruling coalition tried to oust Basescu by trampling rule of law principles to the dismay of Western allies, may find himself isolated should he become Romania's next president. Especially since at that time Romanian intelligence was still swarming with Soviet style agents before the post-NATO accession cleansing.
But Basescu said days from his first revelations that Ponta had no major mission abroad because he was callow and then the very reason he had joined SIE was to attend seminars abroad.
The second aspect is that Ponta is said to have joined SIE when he was a prosecutor and the law bans secret services from recruiting magistrates. "Article 130 in the 1991 Constitution (in force at that moment) says very clearly: the position of prosecutor is incompatible with any other public or private position except for teaching posts. It didn't seem to me SIE has any such teaching position", Basescu argued.
After a series of questions which popped up after Basescu's revelations, yesterday the Constitutional Court rejected a complaint filed by another presidential hopeful, far right leader Gheorghe Funar, who asked the court to ban Ponta's candidacy. Ponta stays in the race, but further revelations may come up before any other electoral calculations of his. Experts also say his electoral chances are unlikely to be reduced by this scandal since most of his electorate would tend to see in him a hero serving his country, even if there are alleged serious constitutional breaches in the middle. But experts also pointed out things may change if new revelations would show Ponta did something illegal. Nothing is ruled out for the moment amid a fierce electoral campaign with probably the greatest stakes in post-communist Romania. But as Basescu warned, the next president will have to cope with the rising power of Romanian intelligence amid a weak parliamentary control.