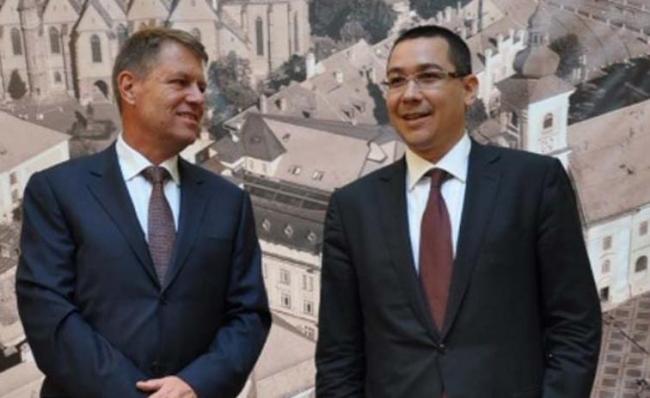 By Daniel Stroe – Bucharest
Social-democrat PM Victor Ponta and liberal Klaus Iohannis, ethnic German mayor of Sibiu, a city in central Romania, will square off in tomorrow's presidential runoff, trying to lure more than half of the more than 18 million voters who will decide who leads the country for the next years, following a decade of Traian Basescu's presidency.
Polls give Ponta a significant advantage, voted by 53-54 per cent of the votes, but such numbers are usually received with suspicion since many such studies are done by institutes close to him. Speaking in a TV show two nights ago, Iohannis said that according to the liberals' polls the gap between the two had been reduced to a single point.
Unlike the campaign before the first round of elections which has probably been the dullest in post-communist Romania, with no single debate among the 14 candidates, this time Ponta and Iohannis faced off in two such televised meetings, with ended at deuce. Iohannis confirmed attending the first debate only one hour before and lost to an aggressive Ponta, but came back more determined the following evening and tried to dominate the prime-minister.
Despite the debacle at the polling stations abroad where thousands of Romanians couldn't vote in the first round, the Romanian Government did little in practice to ensure a quicker access to voting tomorrow. Even though the civil society asked for more polling stations abroad, the Romanian Ministry of Foreign Affairs confined to saying the law doesn't allow it to do so. But the Central Electoral Bureau came out publicly twice and pointed out it had passed a decision which allows the Government to open more such polling stations so that all the 3.5 million Romanians abroad can vote. Traditionally, most of them vote against social-democrats, seen as the heirs of the Communist Party and a party addled by corruption, and this has prompted severe accusations Ponta seeks to prevent voting abroad for fear Romanians in the diaspora could tip the balance, as they did in 2009 when Basescu won a second term thanks to the large voting abroad.
Tens of thousands of Romanians took to the streets this week to call for Ponta to open more stations abroad. The demonstrations were widely reflected in the international media as anti-Ponta protests and marches of support for Klaus Iohannis. To his embarrassment, Ponta failed to recite the first stanza of the national anthem in a TV talk show while Iohannis sang it the next day in a press conference. Ponta has centered is campaign on a nationalistic tone, calling voters to vote for a "Romanian and Orthodox", alluding at Iohannis' foreign roots and other religious confession. But Iohannis pointed out, in stressed words, that "I am a Romanian. Romania is my home country. And I am a free man, I do not a gang behind me", referring to Ponta's oligarchs, many of them under criminal investigation for corruption.
In an unexpected show of indirect support for Iohannis, President Basescu called on Romanians to vote tomorrow "to teach them a lesson". "I am especially calling on the 3.5 million Romanians that live abroad. They also had a capital importance in continuing Romania's modernization process in 2009. This is why, as someone who felt the solidarity of the Romanians abroad and of many Romanians in the country as well, I am especially calling on Romanians abroad to vote", Basescu said.
Even if Basescu didn't pronounce Iohannis' name, a call for a higher turnout was unmistakably translated into a show of support for the center-right candidate. A higher turnout favors Iohannis, because Ponta's voters, people in the countryside and elders, are a diligent electorate and go out to vote anyway. But many Romanians, especially those undecided or disappointed, prefer to stay indoors, but if mobilized they tend to vote against Ponta, who has been a prime-minister since May 2012 and his approval ratings have been on the wane following a series of unpopular decisions, such a fuel tax.
Last night, former liberal leader and ally of Ponta, Crin Antonescu, who has so far refused to publicly support Iohannis and join his campaign, lashed out against the PM and warned Romanians that, if Ponta wins on 16 November, Romania will face "demagogy, hypocrisy and misleading". Antonescu was slated to be the presidential candidate of the social-liberal union, an alliance between Ponta's social-democrats and the liberals who opposed President Basescu but which broke apart early this year.
Last, but not least, Iohannis this week produced a letter of support from German chancellor Angela Merkel. He admitted though that, whoever wins the elections, may be forced to raise taxes next year due to a poor administration of the state budget so far. If Ponta wins, he may have to strive to win credibility among Western partners, deeply disillusioned by his political performance in the summer of 2012 when he trod on the Constitution to oust his all time rival, President Basescu. His image has also been tarnished by a plagiarism scandal which he tried to bury, but which may break up again anytime. The winner will be headed straight into the geopolitical arena, with Romania playing a greater regional role amid the Ukrainian crisis and undemocratic sideslips in Hungary and Turkey.